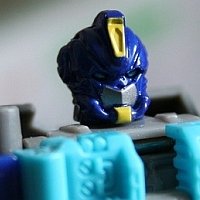 Transformers: Revenge of the Fallen may not have much of a media blitz going on, but when any little bit of information on the upcoming sequel to the 2007 summer blockbuster gets out, we're on it.
TF08 surprised fans with 'leakages' of what supposed to be ROTF in production. TF08 has posted more new images of what is being called a new Revenge of the Fallen action figure mold where three more Transformers have appeared online (joining Dead End), all proposed to possibly be part of the Transformers: Revenge of the Fallen line.
The head design and "look" doesn't match the Transformers: Animated style and the lack of complexity in the transformation suggest all three are basic TFs, probably in the $6 range.
The first one is in the form of a delivery truck appearance to it with no suggested name. Recent update via a German ebay auction stated that the blue truck has a name; Rollbar, and a much clearer picture of the toy.
The second figure is a motorcycle prototype that goes by the name Knockout. whose alt mode is a motorcycle. The pictures are apparently of a prototype that hasn't been painted yet. By the way, via another auction, now a picture of the Autobot Knock-Out painted.
The third one is Dirt Boss whose green crane and construction crane does make you think "Constructicon" but the alt mode does little to suggest gestalt capabilities. No other information seemed to be present regarding the two new figures. Pure speculation can contribute Dirt Boss to being a possible member of the Constructicon Team.
A recent TaoBao auction from "EasyNet" suggests that a red sports car figure we showed you earlier this week is named Detour. We told you earlier this week a toy rumored to be from the Transformers: Revenge of the Fallen movie toyline Scout class Dead End. Community member "DM McPlumpinHumpin" points out that the bubble cockpit seems to be an homage to the Generation 1 Micromaster Detour.
The fourth figure thanks to Japanese Transformers fan S250 the new figure / character is a boat and could well represent Tidal Wave from the second Transformers film (obviously this is an unconfirmed name).
While it is possible that these toys are based on movie characters I get they feeling they are not.They might appear to be fictional characters out of the movie just like what they did to Movie Longarm and co.
Source: Tformers , Seibertron , Transformers Live & TFW2005