After all the cleaning and dusting, you might have learn the importance of care and upkeep. If you are a collector who cared much about the value of your collection, storage is one aspect that you can't take it lightly.
Most people who are passionate of their collections put storage as emphasis as a way to complement it's sentimental or financial value. If you are a true collector, your collection must not be left in the dark – abandoned and incarcerated. That sort of practise normally apply to scalpers who care less about their beauty and value where all they care about is raking of profits by selling them expensively.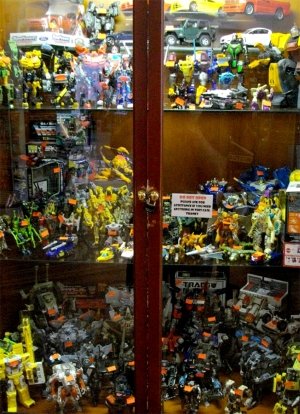 Real collectors will take their initiative in displaying them. Back in the days when there is not many companies that sells specialty casings and storages to store your Transformers. And now that is not a real good excuse for not displaying them when technology have solved most of the collector's woes that might not have been solved in yesteryears.
Here are some examples of storage and casings that you can opt for in maintaining the value of your collection while works its charm in beautifying and decorating your spaces at home. There are several alternatives to choose from depending on why you want to store them, how long for and their value.
Re-sealable Containers:

The advantages are they are cheap, hard wearing, available in a variety of shapes and sizes, and are easy to store and access.

Containers such as food container Tupperware are ideal for storing your action figures

Sealed Storage Containers

Suits well for the high end vintage Transformers or exclusive items that worth thousands of Ringgits.

They are ideal as many grading companies also used them to ensure their graded conditions are being retained.
The materials that was used to manufacture these are made from tough plastic equipped with UV protection, air tight and vacuumed.

The downside of this method is the cost and space, they are expensive and consume lots of room space. Only consider this for storing prized items.

Plastic Shell Cases:

Advantages: Pretty practical as they provide good protection, low cost, comes with variety of sizes and affordable. Suits well for loose and carded Transformers.
Construction: They resemble (similar shape) the manufactures packaging with added feature of being made from durable and harder plastic. They are also slightly bigger to accommodate the shape of the carded bubble of your MOSC/MOC items or loose items.
This method is highly recommended for mint collectors who does not bother much about splurging extras cash to boost the value high up. It can only be expensive if you wish to store many items in one go.
Disadvantages: Taking up space if too many and also it became very costly as this case only packs an item individually.

Display Cases:

Ideal for both storing and displaying your action figures they are often "stackable" for added flexibility and storage. Most display cases are made from an acrylic plastic, making them strong, durable and hard wearing.
There are many companies that offer these display cases in various styles, shapes and sizes. Many of the display cases on the market will hold six or more figures at a time, providing an excellent and save way to store and display numerous action figures at the same time but also preventing them from both physical and environmental damage.
Another big advantage is that they allow you easier access for periodical cleaning and maintenance of your action figures.

Display Cabinets (Wood):

This is like a typical book cabinet with sliding glass
Ideal for displaying loose out of the box item.
You can display them in masses where each compartment is dedicated to a series or Transformers toyline.
Sliding glass ensures that insects and dust go in.
They are available in IKEA and it is a DIY furniture where it needs to be assembled before use.
Food containers are also useful for storing loose accessories but make sure you label each container clearly so you know what it containers, you could even color code them.