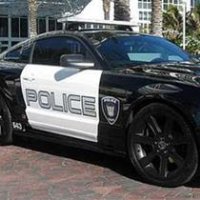 Fans of the Transformers movie will know that Barricade was a hunter-scout for the Decepticons. Now you can pretend you're a genuine Transformer. Except you can't get your car to transform into a giant, city-crushing robot.
It just sort of stays a car And it's painted as a police car, so you may get pulled over for impersonating a cop if you dare take it on the street. According to the guys selling it, this is Barricade No. 2. It was used primarily as a camera car and as such "was heavily screen-used in the movie."
Other than that, the custom Ford Mustang customized by Steve Saleen, one of the most popular and famous Mustang performance enhancers, is the perfect choice for Transformers movie fans. It played Barricade in the 2007 movie and now it's being offered on eBay Motors. Reads the solicitation:
"Motoexotica is proud to offer one of only 3 custom Saleen Mustangs built by Steve Saleen for their role as 'Barricade' in the 2007 movie blockbuster Transformers. Steve Saleen created only 3 'Barricades' for the film and this was the #2 car, also known as the camera car. It was heavily screen used in the movie due to its attention to detail and no damage."
The car has a Saleen modified engine with a five-speed transmission and a body kit with a rear wing and 20-inch wheels. The decals say "to punish and enslave." It's been driven about 7,000 miles and is street legal.
The interior is cherry and the car's got loads of LED police lights and a big honkin' push bar. As far as we can tell it doesn't actually transform into a 18-foot-tall robot, which sucks, because that would make our morning commute a whole lot more fun.
-USA Today/Wired