2007 Mustang Saleen S281 "Barricade" Up for Auction
Remember the bad-ass Barricade in the 2007 Transformers movie? The alternate mode of him – the 2007 Ford Mustang Saleen S281 Extreme is up for auction in Mecum Auctions.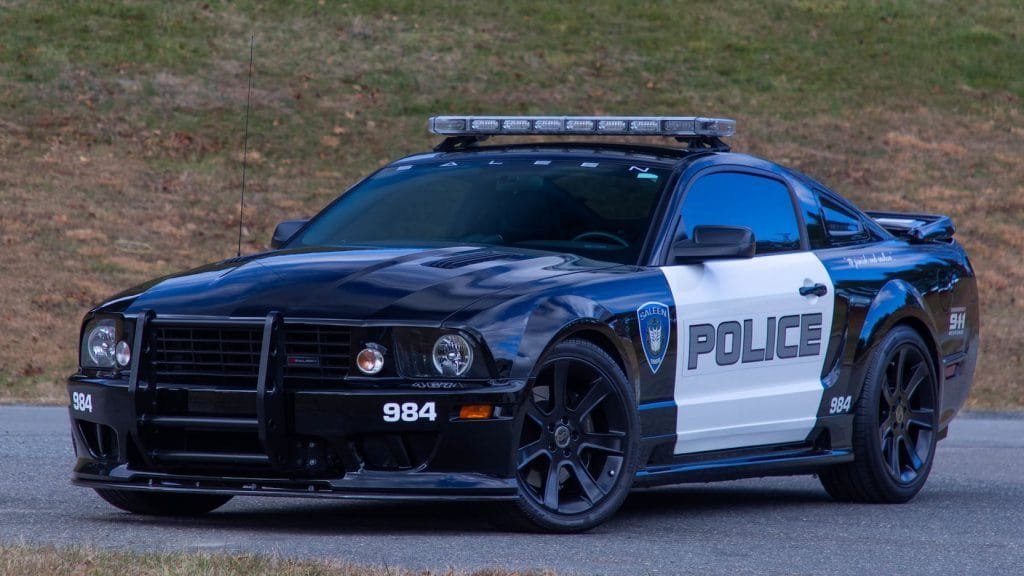 Granted, this is not one of the Autobots, but it's still a cool car to have. Saleen made only three Ford Mustangs S281s for the first Transformers film, which came out in 2007, and this is one of them. One appeared in the movie as the "Barricade" police car / Decepticon while the other two examples were used as press cars.
The 2007 Ford Mustang Saleen S281 comes in police livery, with tinted windows, a light bar on the roof and a bumper guard at the front, and matching black leather interior. It has the "To punish and enslave…" script on the side. This being a Decepticon, it comes with an overall aggressive styling – and performance to match.
Powered by a supercharged 4.6-liter V8 engine paired with a 6-speed manual transmission, this Saleen can go 0 to 60 mph (97 kph) in under 5 seconds, and can reach top speeds of 160 mph (257 kph). It has only 4,690 miles (7,547 km) on the clock, driven across the U.S. to promote the film. This being one of the two press cars, it was never put through the paces on the movie set, so it's in impeccable condition.
"A rare opportunity to acquire a movie press car with only 4,690 miles and serious performance pedigree, this Saleen S281 Extreme is a certain attention-getter," Mecum says in the listing.
This Saleen is part of Eddie Vannoy's proud collection and sells without a reserve. The construction magnate spent over 50 years building an 80+-piece collection including cars, motorcycles, memorabilia and had a soft spot for muscle cars just like Saleen.
He's letting go of his entire collection through the auctioneer, Mecum, and event initially scheduled to take place in June, but now postponed for a later date due to the Covid-19 pandemic.
Source: Autoevolution & Mecum Auctions