Leader Class Optimus Prime As DA-28
It seems like there's a surge of Optimus Prime toys lately. After the Primes have filled up most classes even Ultimate and Supreme, Leader class was left without a candidate.

Just not long after the Ultimate and Supreme Jetwing Optimus versions made a big hit among fans, here we go again serving Optimus Prime in his premier Leader class category.
Thanks to Kapow and Full Metal Hero, we now have a new image of TakaraTomy's upcoming Transformers Dark of the Moon Leader class Optimus Prime known as DA-28 DX.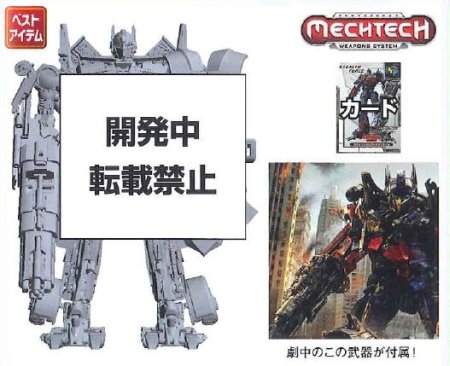 While speculations run high about him being a redeco of Revenge of The Fallen leader class Prime, Full Metal Hero has prove them all wrong. DA-28 will be known as DA-28 DX Redecoration Optimus Prime and he will be the same figure from Jetwing Optimus Prime MINUS the jetpack with a new redeco!
Judging from the prototype, it this Optimus Prime will be equipped with a brand new weapon – known as the Buster gun to tally with it's MechTech ongoing campaigns.
The only mystery left is, what colour scheme is this Prime going to be?