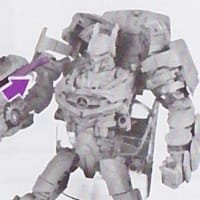 Alternate Head For DOTM Soundwave Spotted
29/02/2012
It seems to be a common practice nowdays that Hasbro usually dropped hints in the transformation manual of the standard release figures.
The latest revealed is from the Deluxe Dark of The Moon Soundwave figures where the alternate head molds appeared on Hasbro instruction sheets lately.
This information has been Tweeted by a Transformers fan and according to an image posted, we see that the figure has an alternate head that looks like G1 Blaster though speculatively only.
Sadly that this figure will not be available on the stateside via Hasbro. Only available now is Takara-Tomy which was made available in the Asian and Canadian market.