Starscream To Be Killed By A Human?
What you will hear next is going to make you loathe Transformers 3 before it was even aired. Krueger at the Don Murphy Message Boards found an interesting news. This is just a Rumor and it should be treated as such.
While it is not rare for a Transformer to die in the Transformers franchise such as Jazz, The Fallen, Optimus & Megatron (though they came back), a recent rumor indicates that another will join the dead-bot list in Transformers 3 is Starscream.
This heard-through-the-grapevine rumor was posted on the website Strictly Fitted, where a member of their website met Lester Speight (Gears of War 2) who plays Hardcore Eddie in the film, who is rumored to kill the giant robot as quote:
"Some make moves, we make movies. No Photoshop tweeks here. Our very own JB Marshall was on set of Michael Bay's Transformers III with actor LESTER SPEIGHT (Norbit, Gears of War) filming in Chi-town. We're refraining from posting any spoilers in the open, but we hear his character Hardcore Eddie kills Starscream.
The third installment of the TF franchise is in 3D and due to hit theaters next year. Lester shows major love rocking the SF lockup fitted baseball cap. The 6′ 5½" former All American Linebacker for Morgan State University actually filed to run for Governor of California in 2003. So.. what are YOU going to do tomorrow?"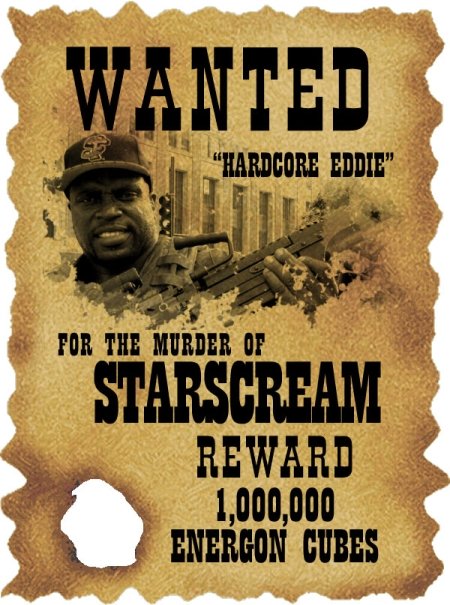 Due to the status of the rumor, take this one with salt for now until we can have something more substantial. This is definitely a spoiler so hopefully no one freaks out. There were also rumors that there were 'robot parts' included in the set props amongst the Chicago Transformers 3 filming. Now we are getting word from one of the actors himself that he indeed is the one that puts down our beloved second-in-command.
How befitting of this character to be taken down by a human. Sad as it is, now it just opens the door for one of the more ridiculous traditions in Transformers – Starscream as a robo-ghost!