Yumchars: Keeping The Momentum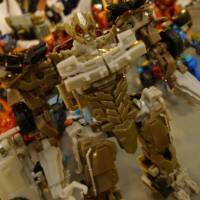 Here's a little update on TransMY's recent social meets: Penang chapter have been running yumchar session on a regular basis from the year it gained membership. This small yet effective chapter cater fans from up north such as Penang, Northern Perak and South Kedah for their regular Transformers fulfilment.
The chapter had more and more new faces these days and kudos to all the spearheaders – Mods and regular members who kept the enthusiasm alive.
Their recent themed gathering added creativity in their meet up by agreeing on a theme where corresponding toys related to the theme will be brought over for a joint review and discussion.
Down in Klang Valley, the resurgence of a small new chapter consists of mainly new faces and a minority of old timer begin gaining momentum again by organising their almost-weekly yumchar session on a regular basis.
Their main spot is normally Amcorp that involves TF hunting and will a session at the mamak will precede after that and if most members are willing to stay up much later, the session will be extended in the A&W outlet right across the road.

The most recent Penang chapter yumchar session in February.
I just want to give a shout out to our TransMY military men who is steadily building up a chapter/fan base in Kuantan. And yes, majority of the members based in Kuantan consists of personnels from the Malaysian army, airforce and navy. Heh, Transformers (movie) itself is military-centric anyway! To all east coast members who wish to meet up, do keep your eyes peeled for the latest yumchar updates taking place in Kuantan.

Most recent yumchar session in Klang Valley, early March.
For any local Transformers fan who are still hunting your toys alone, do join us for a session of networking, fun and laughter. You might be filled with 'more than meet the eyes' surprises that might await you.
Till then, do keep the momentum going guys!!