Delicate Warrior (MGT-01) Review (i-Gear)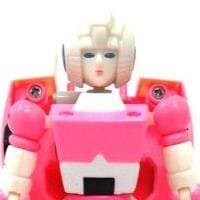 Arcee is one of the most notable fembot characters based on the G1 lore but sadly, Hasbro never release a toy of her making her one of the most anticipated Transformer that fans want her toy to be made.
Thanks to brilliant minds from i-Gear, they managed to produce her in her truest form, true to G1. Naming her 'Delicate Warrior' to avoid trademark issues, this motherly figure binary bonded to Daniel Witwicky is now one of the most sought after figure for those who wish to relive the G1 legacy.
Still, missed the train when she came out but better late than never and here is our review on her, as 'Delicate Warrior'.
Packaging
Robot Mode
Alternate Mode
Aesthetics
The Not-Arcee we've been waiting for! Though it's more towards her G1 design rather than Classic (Neo, Modernize G1)
Articulation
Design
Car-Mode Not-Arcee, AWESOME! But should've worked a bit on her parts in Alt Mode. But, both her Alt Mode and Robot Mode, the parts doesn't really click into place, they just kinda 'falls into place' which is a really nice touch
Gimmicks
Paintjob
Really clear paint scheme  with white and pink, a classic color scheme true to the real G1 Arcee.
Fun Factor
Aside from "Hey, it's Not-Arcee" fun, not much. But her possiblity does adds up the fun.
Complexity
Really straight forward transformation.
Value
Fact – No G1 Arcee ever released! Not even a re-incarnation (her appearanced in Titanium Line was cancelled or rather the line itself). And also, as Arcee as her TFA self could be, it's still not 'G1' . So, this is her!
Overall 
text
Gallery 
She really fits into place (Classics Line). However the price tag is a bit high so if you really had extra money to spend, go pick her up!
Ratings 
[starratingmulti id=2 tpl=50 size='30' average_size='30']
Credits 
Gema