Reveal The Shield & United Galore
The toys from Transformers Generation's Reveal The Shield and it's Japanese counterpart – Transformers United has been surfacing non stop from the past week! We had images of the toys surfacing from many sources such as Actoys, TFW2005, Amazon, and BBTS
Forum member Autobot032 from TFW2005 has pointed us in the direction of an Amazon Japan listing for Transformers United Kup. Transformers United is better known as the "Generations" line outside of Japan. This is our first look at the muchly anticipated Kup.
No long then, Seibertron member Roddy informed that site sponsor Big Bad Toy Store have posted images of Transformers United Wheeljack and Rumble/Frenzy. At this time, Wheeljack is just a prototype and only one of the Rumble/Frenzy pair is pictured (you know the debate).
The rumored pile driver arm mode has possibly been shared in a very small blurry picture of an unpainted prototype of the Frenzy/Rumble United/Generations mold.
Then BassX0 of the Allspark has shared the image with the fandom, and surprisingly it was the pile driver arm mode. Of course, the size and blurriness still leave a lot to be debated.

Reveal The Shield Legends Starscream
United G2 Optimus Prime
United Jazz
United Kup
United Lugnut
United Perceptor
United Rumble
United Scourge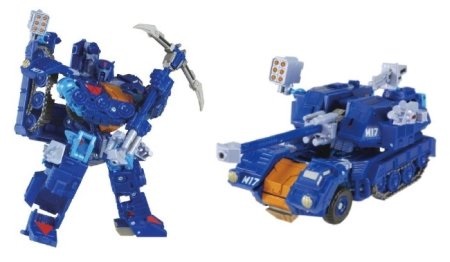 United Straxus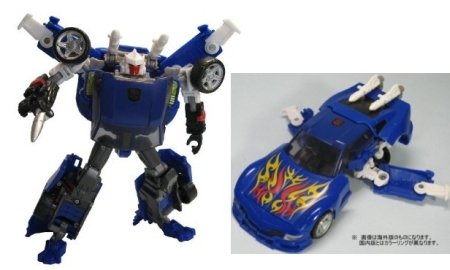 United Tracks
United Wreck Gar
United Wheeljack
Reveal The Shield Grapple
Reveal The Shield Lugnut
Reveal The Shield Strafe
Thanks to BBTS also, more images from what seem to be some posted new product listings for the Transformers United series that will be offered by Takara Tomy in Japan and other Asian countries. Here we have some new looks at the United deluxe class actions figures Frenzy & Rumble, Wheeljack, Scourge who is a Target Master and G2 Optimus Prime.
Look for these figure to be release in January 2011.