DOTM February Toy Updates
More and more images have surface including the biggest badass robot villain that everyone have been waiting for which is not Megatron, but none other than Shockwave. While Megatron will be patrolling the streets of Chicago as a battered old tanker truck in Michael Bay's Transformers: Dark of the Moon, he won't be the primary villain the Autobots and human special operations folks have to fend off.
With the Fallen having, well, fallen in Transformers 2, Decepticon Shockwave will make his way to Earth and probably prove a thorn in Optimus Prime's side. Thanks to a new set of toy leaks we have our first look at what this otherworldly villain might look like in the film.
The robot-mode for Shockwave includes the cyclops eye as his old generation one toy design implemented. His alt-mode, however, has been changed from a Cybertronian gun to a Cybertronian tank, the same alt-mode Megatron put to use in Revenge of the Fallen.
Because Shockwave will be all-CGI, which is truly our first look at the character. Unlike Megatron whose truck alt-mode was on-set in Chicago, Shockwave lives solely on a computer screen.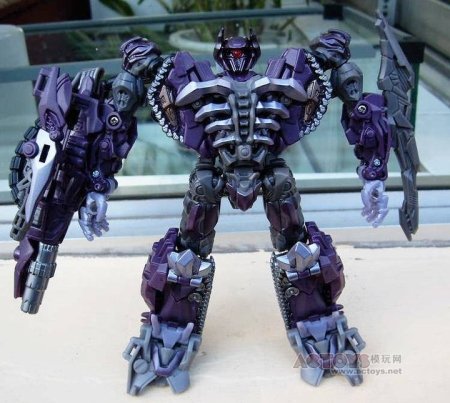 From the ever popular Shockwave, thanks to the Ebay seller dj-wiso who has posted an auction for what is suspected to be the Transformers Dark of the Moon Looks at Deluxe Jolt action figure. We reported this previously when just an image of the alternate vehicle mode was revealed. Now, we have a new shot of the Autobot Jolt in his robot mode complete with MechTech weapon.
He is less blue this time with neon blue accents around his arms and body. We are unable to confirm if these colors are final.
Also from dj-wiso, he has posted an auction for the Transformers Dark of the Moon Deluxe NASCAR Green Wrecker. This is one of the other NASCAR figures of many that are expected to be released as part of The Wreckers team. This #88 guy looks to be sporting some Mountain Dew action with AMP energy drink logo on the hood.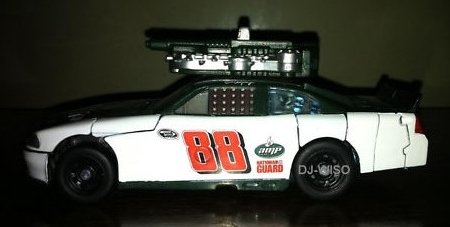 The next blue wrecker that everyone is anticipating surfaced along with green wrecker. This blue wrecker bears a team number #48 Lowe's, comes with some slight yellow and black accents with exhaust pipes protruding from his neck.
The next guy is the unnamed Autobot Helicopter (looks Wrecker to me) was first sighted in a group photo that surfaced last week. Today e had his alt mode shown in full glory. He comes with white and black accents all over.
Finally, the big showdown prior to the official unveiling of Transformers: Dark of the Moon continues with our first look at leader class Optimus Prime with trailer via io9. The movie version of the character was first seen during the Super Bowl trailer last night. The trailer transforms into a separate figure but also combines with Optimus Prime into something rather interesting.
This Prime many has dubbed him as the Butterfly prime. I hope these stock photos are an accidental mistransformation of him!
-TheHDRoom