Deluxe Optimus Prime Redeco – Lunarfire
Not long after the 'standard' release of Transformers Dark of The Moon Deluxe Class Optimus Prime, another variant has been surfacing.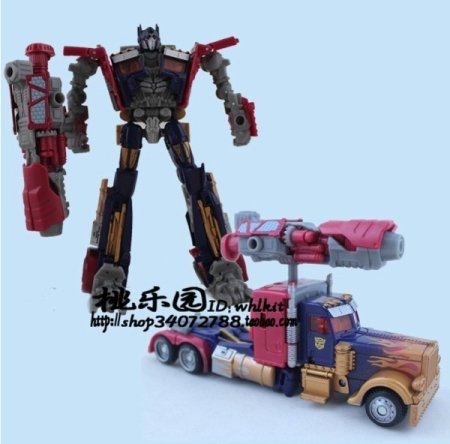 Kapow Toys has confirmed that the second deco known as Lunarfire Optimus Prime will be a Walmart exclusive. It comes with a different Mechtech weapon with whole new decal with gold flames on the front and gold accents on the foot, gas tanks, and surrounding the vehicle. The blue and tinted red appears a bit faint.
The first picture of Lunarfire Optimus Prime first surfaced in Taobao auction offering as a loose item around last week.
Someone released the tech spec of Lunarfire Optimus Prime not long ago:
"Autobot Ratchet just modified his leader's vehicle mode with a gleaming Cybertanium coating designed to withstand the most punishing conditions in the galaxy! With his stunning new paint job and ultra-powerful ion cannon, Optimus Prime, the mighty leader of the Autobots, is tuned up and ready to roll out!"
Lets see if SDCC had more coverage on this guy.