Transformers Party For A Meningeal Sarcoma Patient
TransMY was invited by Make-A-Wish Malaysia to assist in throwing a meaningful party for an 8 year old Meningeal Sarcoma (a form of cancer that affects the brain) sufferer, Terry Chao from Parit Buntar, Perak.
The aim of this party is we want to make this dream come true in a way where it is truly magical and an experience he will cherish for the rest of his life. We hope the fulfillment of his wish will be a source of inspiration, hope and strength to him.
This event is TransMY's first charity event therefore we would welcome any able TransMY member especially those from Penang to join us by giving us a hand in making this party a successful and a meaningful one for Terry Chao & Make A Wish Malaysia.
Here are the details of the event:
Transformers Party For Terry Chao
Date: 7th April 2012 (Saturday)
Venue: Hard Rock Hotel, Penang
Event Organizer: Jess Phang of Make-A-Wish Malaysia
Itinerary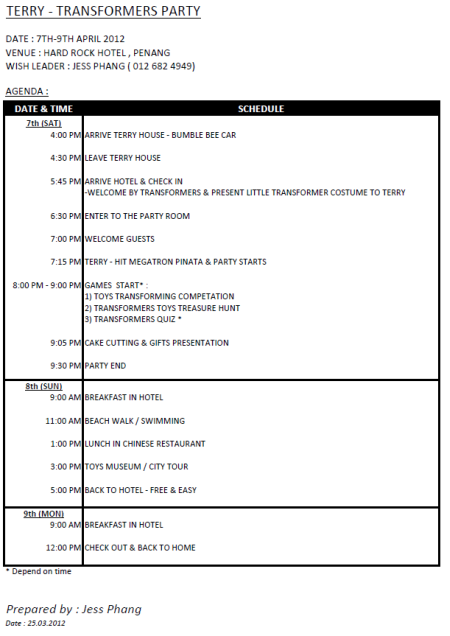 Layout
What you can do to help?
Toy Donation
For those who want to donate their toys from outstation, you can send them to Mike's mailing address below. Terry loves Bumblebee and Optimus Prime the most.
Attn:
Mike Wong (ITO Dept)
3rd Floor.
Asia Assistance Network (M) Sdn Bhd
AA One, No.1, Block N, Jaya One, 72A,
Jalan Universiti,
46200 Petaling Jaya.
Cash Donation
For those who want to contribute funds, can do so by the following bank accounts (any amounts welcomed even few ringgits);
Maybank: 1081 0444 0850
Allianz: 62104 002 002 405 3
Account Holder: Wong Chin Han
Once you have done your transfer, please SMS us to our mobile, and we will list out the names of donors in the forum later on.
Manpower
For Klang Valley members, please contact Mike if you wish to join us for the trip to Penang. Other queries can be directed to Mike 016-3660441 or Admin Prime 016-3488061.
For Penang members who wish to help out, please contact Rafe Boon at 016-5537427. Rafe will be the liaison officer on the island side for Mike and Admin.
Reminders
All arrangements – donations of toys and cash can be made this coming Friday 30th March 2012 to Mike during the yumchar session OR the latest on the 5th April 2012 for cash donations and 6th April 2012 for toys to Mike. This applies for only Klang Valley members.
For Penang members, you can pass your toy donations to Rafe Boon the latest 6th April 2012.
Take note that TransMY will be involved on 7th April only while the rest of the event till the 9th  April will be taken care by Make A Wish Malaysia.
For Facebook users, you can RSVP here, alternatively participate in our forum here.