Malaysian Transformers Dark of The Moon Madness In June
As DOTM is drawing nearer and nearer, TransMY have been proactively involved in several projects with the franchise and movie bigwigs of Transformers Dark of The Moon movie. We have been informed about the events since December last year. To summarize what our group has been up so far, here are some stuff that you might not want to miss out in June 2011.
Transformers Dark of The Moon Rollout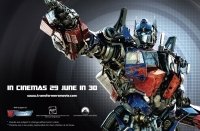 This event is taking place at 1Utama's Oval with Chevrolet being the main sponsor. We have been invited as official exhibitors to showcase our action figure spanned from the 80's to the most recent toyline. A few showcases have been provided to us but we wouldn't reveal much about the ongoings. Just like any other carnivals, this will be an ideal day out for family and youths to understand more about the franchise.
Since we have to be tight-lipped about most of the contents of the event, what I can say is this event is a must-attend for folks in the Klang Valley as this will be one of the most memorable Transformers event that you ever attended. SERIOUSLY!
Kudos to United International Pictures (UIP) Malaysia and Oredia, being the event management for this event. The details of the event are as follows:
Date: 6th-12th June 2011
Venue: The Oval, 1Utama
Transformers Movie Carnival
After Klang Valley, the Dark of The Moon fever brings us up to the mountain top – Genting Highlands where another Transformers related event is scheduled to take place in Genting Highlands First World Indoor Theme Park.
This carnival is an all out Transformers official licensed product and merchandise carnival where you can find a plethora of stuff ranging from (obviously) action figures and toys, foodies, apparels, clothings, tools, multimedia, audio, equipments, gadgets and whatever official licensed product that you can relate to Transformers is in this carnival.
As usual, TransMY was invited as the official exhibitor for the event however the size of exhibits are much smaller compared to the one in 1Utama. Only movie related toys are being displayed there from first movie, Revenge of the Fallen, Hunt For the Decepticon – a spin off line from Revenge of the Fallen and of course, Dark of The Moon. The toy exhibits will be displayed in 3 cases.
Details about the event:
Dates: 14th – 26th June 2011
Venue: First World, Genting Highlands
Transformers Dark of The Moon Premiere
With much support from UIP, we were able to secure a cinema hall for our members with over 200 seats for our members to enjoy the show, a day earlier than the nationwide release. What is most important for us is the fun of watching them together with like-minded fans and friends from the same community.
Details:
Date: 28th June 2011
Time: 11.45pm
Venue: GSC 1Utama
Format: 3D
Until this time of writing, we are in our final 40+ seats up for grabs.
Queensbay Transformers Fair
This event will take place far up north in Queensbay Mall, Bayan Lepas, Penang. Just like 2009, we were invited once again to be the main exhibitor for the fair. What's unique about this event is, it will be handled solely by our northern chapter, the TransMY Penang chapter with a 15-men strong team, they were put to the task in exhibiting over a 1000 piece of Transformers action figure.
The main content of the event is basically another family affair where competitions and sales will take place while you will chance upon ogling for the latest action figure and possibly buying them and get involved in this hobby.
See you all there.