Another Publicity For TransMY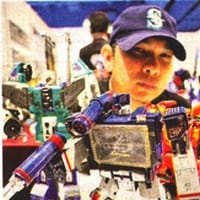 After a year long, TransMY are in the publicity spotlite again. This time we were covered for attending the Toy Fair along our fellow member's business both – Wan de Real's Transworks. The video and article about Malaysia International Toy Fair 2010 that was held last month in Mid-Valley, KL has been featured almost simultaneously few days ago in Hoohaa.com.my and The Star (Metro – Central) on Friday 22nd Aug.
Hoohaa had Wan de Real as the 3rd person to be interviewed in their video. The whole interview starts at 3.42 and ends at 5.46, that is 2min 4sec altogether. In the clip, the reporter questioned Wan about his involvement in custom Transformers and the profitability in the business.
As for the Star, the coverage are centred on entrepreneurs who produces toys and their toy company. Wan had a small paragraph dedicated to him in he article:
"Toy play can also be serious business as in Azwan Kareemz's case. The 32-year-old has taken to custom building his own Transformer robots by taking apart die-cast models of airplanes and cars and reconstructing them. With the use of recycled items like wire cables, Lego ball joints, door hinges and even used zips, Azwan has hand-fashioned robots like Bumblebee and Secondwave with these parts at scales of 1:24 and 1:32 which he will sell for no less than US$1000 per piece, depending on size and material."
The page has 2 pictures of Wan's stuff. Though The Star did not specifically mention TransMY, Wan's paragraph has made the group proud for his expertise in customisation and kitbashing.
TransMY will constantly push it members to be featured in the media for publicity whenever there is opportunity and invitation because we believe the passion via Transformers collecting is not one, but is for everyone to share.
[youtube]http://www.youtube.com/watch?v=XK8XIRGiwbU[/youtube]
Read on for more:
The Star Metro (online version)
Hoohaa's Malaysia International Toy Fair coverage