(UPDATED) Penang ROTF Expo: Queensbay Excursion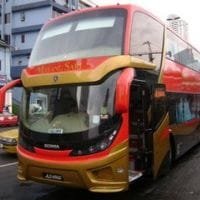 A thread about this has been posted but there is no reception, and therefore I would reiterate this again by inviting TransMYians from Klang Valley to join us, the Mod team to Penang to assist the Penang TransMY Team in making the Revenge of the Fallen Expo in Queensbay Mall a success.

I bet you will start to have worries as the distance from Klang Valley to Penang is a problem. Fret not as the transport and accomodation will be fully sponsored, so save your time driving and booking rooms!
All you need to do is just be present, and for those who wish to contribute toys on behalf of the Penang Team, it is not late to do so!
Here are the details of the 'excursion';
Date: 25th June 2009 (Thursday) (Departing KL)
Return: 29th June 2009 (Monday) (Reaching KL)
Time: 10.00am (Departing KL)
Venue: Mike's House @ USJ 24 (chartered bus rendezvous here) *New update
Necessity: Sleeping bags, monie, some clothes + toiletries, toy cargo (for those who is contributing to the expo)
Accomodation: Service apartment
Contact: Mike (016-3660441)
Seats: 25 left
We are leaving KL on the eve of the event to assist our team in Penang on the evening 25th and we will be leaving Penang on Monday morning 29th for KL. Service apartments contain spatious hall for everyone to bunk in. Bring your sleeping bags and other necessities.
Please help to support the expo to make it a success.
p/s: participate in the thread here