Transformers Toys Boost Hasbro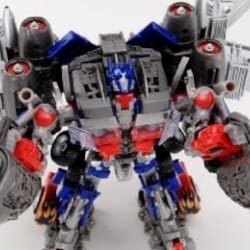 Transformers toys sells the movie, not the other way round. This is one interesting read on how Transformers toys had once again helped boost Hasbro's sales. Killing Transformers 4 is not an option seems like it.
NEW YORK – Hasbro's second-quarter profit rose 33 percent helped by Transformers toys, whose sales are up strongly compared to 2010 and are seeing similar trends as in 2009 when the previous Transformers movie was out, the toy giant said Monday.
In an earnings conference call, management also said that the company is encouraged by recent ratings trends at kids TV network The Hub, a joint venture with Discovery Communications, and it expects no writedowns for the channel from a recent goodwill impairment review that is nearly complete.
Hasbro's latest profit of $58.1 million compared with $43.6 million in the year-ago period. 

Quarterly revenue exceeded Wall Street expectations with a 24 percent gain to $908.5 million.
Boys division revenue jumped 96 percent thanks to the success of the Transformers brand.

 Hasbro's entertainment and licensing segment saw revenue drop 11 percent to $27.2 million primarily due to lower movie related revenue as the year-ago period included a payment related to the Battleship film scheduled for release next year.
"As expected, top-line momentum in our business began to build during the quarter, led by strong gains in the Transformers brand, driven by Transformers: Dark of the Moon, and Beyblade" and continued strong international growth, said president and CEO Brian Goldner.
Fellow toy maker Mattel had also reported higher earnings on Friday – in its case driven by strong Cars 2 merchandise.
On an earnings conference call, Goldner said that Transformers toy sales this year are up significantly over last year and are trending similar to 2009 when the brand took in $592 million in revenue driven by the previous movie release, up 23 percent compared with 2007 when the original film premiered.
"Overall size and scope of the brand that we've talked about is being more comparable to 2009 than 2007," he told analysts. Sell-through in the U.S. is "probably down a bit" compared with 2009, but "internationally, it's up," he also explained.
"The film has the highest exit poll reviews from audiences of any of the prior Transformers movies, and this bodes well for sustained interest until the DVD arrives in the fall backed by an extensive home entertainment strategy from Paramount during the fourth quarter," which will get the movie in front of more younger kids who didn't see the PG-13 release in theaters, Goldner also argued. "We've very excited about owning and operating a brand of the strength and the opportunity to continue to reinvent it over the next several decades."
For the second quarter, Hasbro's share of the earnings for The Hub amounted to $197,000, compared to a loss of $76,000 in the second quarter of 2010.
Hasbro CFO Deborah Thomas said that a recently disclosed review of goodwill impairment at the network, related to a change in programming deals, is expected to lead to no writedowns. "They have completed that review of goodwill impairment, and we don't expect any writedowns to be reported by The Hub in connection with that," she said. "They just have to have their auditors finish auditing their procedures."
Goldner confirmed that the new programming deals for The Hub came because Hasbro shows made up seven of the top 10 shows on the channel. "So we got increased monies for our production of shows domestically…consistent with what people pay for animated programming," he said.
Goldner also lauded The Hub's ratings trends for its recently implemented summer schedule, which has a higher percentage of programming from Hasbro Studios. "This new summer schedule on The Hub has delivered widespread gains over the pre-summer schedule, outpaced the percentage growth among kids 2 to 11 summer schedule [of some] competitive networks and produced the highest ratings of the calendar year for The Hub," he said. "Overall, we feel very good about the overall TV strategy and particularly about The Hub."
-Hollywood reporter