Transformer Collector: Ultimate Class!
Where were you when Optimus Prime died? Ask this question of almost any teenage boy of the 1980s and you'll most likely get an emotionally charged answer.
Sean Kneeland, a Transformers collector from Denver, Colorado, has an answer that is no exception, "When I saw the film for the first time, I nearly cried when Optimus Prime died."
Thanks to the… flexibility of science fiction, we can happily continue to say, "Transform and roll out!" Twenty-five years later, five animated series, a feature film blockbuster and another film in production, it's safe to say Optimus Prime is anything but dead.
With the battle between evil Decepticons and Heroic Autobots continuing to rage on I figured I'd check in with perhaps the toyline's most passionate collector, Sean Kneeland.
At the age of 14 in 1984, Sean purchased his first Transformer at a Target store. It was the Autobot Bluestreak, a Nissan 300ZX that changed from car into robot and changed Sean's life forever.
transforming-robot-addiction didn't take immediate hold, "I'd have to say the second year was when the most interesting stuff really started coming out, and then I realized the extent of "my problem".
When other kids were garage selling their toys, or passing them down to the little brother or sister- whom would undoubtedly destroy them, Sean was packing them away, and preserving them. Now an adult, Sean has a career, a home, and one of the largest Transfomers collections this side of Cybertron.
Sean has collected virtually every Transformer released in North America since the beginning. When asked, "How many Transformers do you have?" Sean laughs with a reply, "I think the more appropriate question is how many I do NOT own." Except for a few repainted versions and alternate versions available in Japan, he has amassed an armada of Autobots and Decepticons.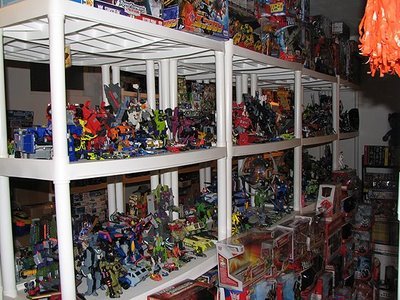 His favorite? "Has been and probably always will be Optimus Prime." The rarest piece of his collection, the Raiden Trainbot gift set–fetched for a hefty $800.00 on Ebay. And the most unique, "I'd have to say Beast Machines Supreme Cheetor. The damn thing is the size of a housecat!!!"
In 1995, Sean moved into a new house with the much-needed addition of a large basement, "I don't know if I'd call it a museum. I'd rather think of it as a shrine. Before I moved into this house, most of my collection was packed in boxes, since (then) I've had the room to display them properly."
Sean is an active member of the online Transformers community, and buys, trades, and sometimes sells with other collectors on sites like Tfans.com.
In addition he continues to collect the newest incarnations of The Transformers including the current animated series. "The (current) animated series flat out rocks in my opinion. At first I was a little hesitant about the style, but after watching the premiere, I was hooked. The writing and characterizations really make the show."
And what does this avid collector think about the toys for the show? "They're really going all out in making these as cartoon accurate as they can. Yet they're all still fiddly and mechanical. My favorites so far have been Leader Megatron, Leader Bulkhead, Bumblebee, Shockwave, Blitzwing, and Voyager Optimus Prime".
For the last twenty years loyal Transformer collectors like Sean (as well as a toy buying kid here and there…) have kept the franchise alive. The same community looks excitedly toward the future as release of a second live action feature film is on the way.
For Sean, the more designs he sees from the film, the more excited he gets. "As for the new movie, I'm excited, but I've been purposely keeping myself out of the loop as far as spoilers and designs and whatnot. I want to be as surprised as everyone else at what happens when I go to see it." Will he be adding the toys from the next film to his collection? "Of course!"
Sean's words of wisdom from a lifetime of acquiring and maintaining his astounding collection?
"In the Transformers universe, energy weapons, rockets, and ion blasters can be a problem, but dust, after water and dirt, is a Transformer toy's worst nightmare!"
Source: Force of Geek
{mosgoogle}