HappyMeal Launches TF Animated Promo
The subsite on HappyMeal.com gives us our first look at all 6 of the Transformers Animated toys that will be part of this promotion. It's not unusual for McDonald's to start using a new promotion's bag at the end of a Happy Meal promotion, and that's exactly what happened for one TFW2005 member.
Although the toys in the bag were still Kung Fu Panda, the Happy Meal Bag was for the Transformers Animated/Littlest Pet Shop promotion. It's not much to talk about, Animated characters printed on a cheap paper bag, but it also has a coupon for $5 off a $19.99 Transformers purchase printed on it!
So fans that were going to buy just the toys may want to consider buying a couple Happy Meals too for the coupon! The 6 figures that will be released are Optimus Prime, Megatron, Ratchet, Starscream, Bumblebee and Lugnut.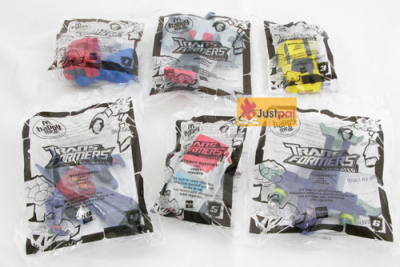 Click here to visit HappyMeal.com to view the promotion.
Source: Seibertron
{mosgoogle}