G1 Writer, Earl Kress Passes At 60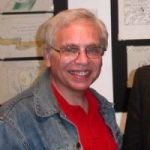 Earl Kress, one of the world's legendary writer for the animation industry has passed on at the age of 60 after a tough battle with cancer that was discovered early this year.
He is also one of the famed Transformers G1 writer who have been credited for G1 episodes such as The Ultimate Doom, Part 2, The Immobilizer, Desertion of the Dinobots, Parts 1 and 2, along with a couple others.
Besides Transformers, Earl's animation career included writing and storyboarding credits for The Oddball Couple, Tiny Toon Adventures, Taz-Mania, Pound Puppies, Pinky and the Brain, Road Rovers, the modern Looney Tunes short "Little Go Beep", and more.
His last credited work was the direct-to-video film Tom and Jerry Meet Sherlock Holmes. He also studied under legendary voice actor Daws Butler, and was frequently involved in classic animation DVD sets and as an officer of animation guild Local 839.
On a personal note, he frequently posted as Daws Butler Jr. at TZ's sister site, Golden Age Cartoons, and his perspective and insight into the animation process were always appreciated.
RIP Earl, you will always be remembered by Transformers fans worldwide.