Dr Crank Review (TFC Toys)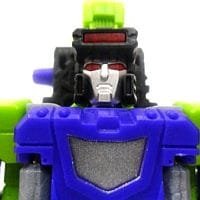 Dr. Crank (not-Hook) is the  fourth of the six figures that combine together to form the mighty no-Devastator Hercules. Here goes our review.
Packaging
Robot Mode
Alternate Mode
Aesthetics
Fresh re-imagination of the his G1 counterpart.
Articulation
Wide range of articulations however the he crane that hooked up on the back does impose some difficulty.
Design
Workable and briliant design considering the fact that the head for Hercules integrated into the fig itself
Gimmicks
Cool gimmick on the crane and the gestalt's head.
Combining mode:
Paintjob
Most detailing compared to the 3 previous releases.
Fun Factor
With him being release, Hercules started to take form.
Complexity
Straight-to-point transformation.
Value
Better QC, seems like TFC are getting better and better.
Overall 
A must have and he redeemed what Hasbro have left in his G1 form.
Ratings 
[starratingmulti id=2 tpl=50 size='30' average_size='30']
Credits 
Gema