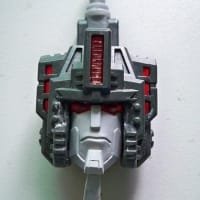 "Invulnerable" Face For More Hercules Expression
16/03/2012
Dr.Wu has released an ingenious product that will add up variety on facial mimics that Hercules can do. Not to be confused with the already available 'Rage' face option, this addition will add up more mean looking face for Hercules.
The chin was seen as pretty large and the price point could be almost similar to the Roaring set. He will comes with an ability to conceal the head in the back of Dr. Crank.
Thanks to Transformers Galaxy who have added these images to their Facebook page where it can be viewed by by clicking here.
Below you will find some samples that the guys at the Transformers Galaxy Hong Kong Fans Group have posted among them are some installed and packaging shots of Dr. Wu's DW-P04A Invulnerable replacement face for TFC Toys Hercules.