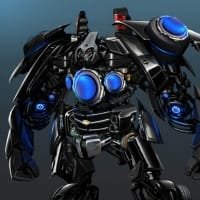 Mercedes Benz Prideful In Transformers Dark of The Moon
06/07/2011
Transformers Dark of the Moon cast and crews were in Berlin's premiere recently with the movie's debut launched at the Sony Center in Berlin. All of the actors of the film were there signing autographs and attending press conferences. Before that, they were driven there stylishly by a fleet of Mercedes- Benz S400.

In this third movie of the trilogy, Mercedes Benz has played an important role as one of the challenger of other car makes, namely Chevrolets and Ferrari.
Their show of force in the fleets for the premiere is just starters, Mercedes-Benz made a bigger impact by being part of the cast in the movie portrayed as a good guy and a bad guy.
The good guy, an Autobot with the name of Que (aka Wheeljack) takes the form of the Mercedes Benz E550. He is reported as the one with the robotic Einstein-like look with white hair and the intelligence. What's tragic about him is, he gets killed at the end of the movie by another Mercedes – Soundwave!
Another Benz in the movie, portrayed by Soundwave's earth form was the car belonged to the new lead lady, Victoria's Secret's Rosie Huntington-Whiteley. Soundwave was previously a satellite orbiting in space gathering intelligence for the Decepticon forces prior to the attacks on earth in Dark of The Moon.
The Mercedes-Benz SLS AMG even via it's alternate form still comes with those interrogation-like tentacles that Soundwave use to adopt whilst operating in space. Those tentacles appears from the car's internals.
Soundwave had a balance of moments both as a Mercedes and a robot, enough to highlight the awe and glory of the car maker itself.
Tune in to Dark of The Moon in your cinemas if you enjoyed the Benz goodness!