Paramount's 2012 Rose Parade Float Features 'Transformers'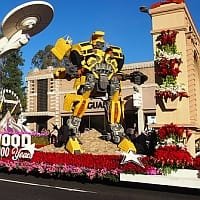 Paramount Pictures participated today in the 123rd Rose Parade in California with a float celebrating some of their most memorable franchises, like Star Trek, Transformers, and Grease. Called "Paramount Pictures 100 Years Of Movie Magic," the 55-foot long entry paid homage to key productions of the studio's past.
Ten Paramount employees rode the float on Monday, which included replicas of the Star Trek's USS Enterprise, the WWI biplane from the first best picture Oscar winner Wings, the studio's iconic Bronson St. gate, the 1948 Ford Deluxe "Greased Lightening" from Grease, and the bench from Forrest Gump.
Transformers character Bumblebee was also part of the presentation, and was decorated in petals of brilliant yellow strawflower, gray poppy seeds and black chive seeds.
[youtube]http://www.youtube.com/watch?v=VMHnWB4mezs[/youtube]
Longtime parade co-host Bob Eubanks (The Newlywed Game, Hollywood Squares) revealed while the float was passing that his son Corey drove Bumblebee in the first Transformers movie. The theme for the 123rd Rose Parade was "Just Imagine."
-Hollywoodreporter