Yesterday's Transformers Movie Premiere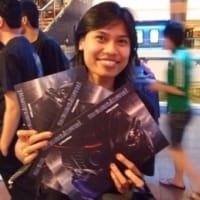 Last nite, TransMYians and their spouses and guests were given the opportunity to watch the premiere of Transformers Movie earlier than anyone else. The scheduled nationwide release was 28th, but after special arrangements were made, TransMYian got the honour to watch them yesterday.

The tickets come in total exclusivity with unique carded covers with TransMY logo on it. Despite the tight security checks, members enjoyed themselves in the theatres roaring, screaming and weeping whenever a nostalgic line being uttered thus giving a momentous feeling about that ol'skool show.
Fans do loathe Michael Bay at the beginning. But as quoted by one member;
"The CGI was speechless.
The action sequences was out of this world.
Megan Fox was on FIRE.
There is something about Transformers that more than meets the eye.
The overall experience was enchance with the participation of fellow TransMYians roaring and cheering like they are watching a football match. You can't get this anywhere else. No matter how many times you watched the movie.
Hey, who cares? I'm still going to watch it again and again until the movie stop showing in the cinema. Of course, I will still scream and cheering for my beloved transformers."
So, what are the rest of you is waiting for??? GO WATCH IT!!!
Read about a fellow TransmYian's premiere experience here (Catsndog) and here (Eyeris)
Note: TransMYians will organise a non-official get together again for an IMAX screening experience of the show. Please keep a look out in the forum for announcements.