TransMY's Transformers Dark Of The Moon Premiere
Our wait has finally come as TransMY, has always have been privileged to be one of the earliest (if not the first) to watch Transformers movie premiere since 2007's first live action movie release. This year's screening took place at 1Utama's Golden Screen Cinemas (GSC), Hall 10 at 11.45pm.This year we are repeating the same event again by having a 276 seater hall all for ourselves which is the biggest hall in TransMY's history and the coolest part is to be able to watch them in 3D – much recommended by Michael Bay himself.
During the first movie we had 200 viewers split into 2 halls with 100 people for each hall. In 2009 during the Revenge of The Fallen premiere, we had a large hall over 200 seater combined with Toy Workers. This year we had a big hall all for our own thanks to UIP Malaysia.
Our Transformers Dark of The Moon premiere campaign had started as early as May 2011 with bookings being released in the forums. Seats were selling off really fast as members who booked up personally recommend the show to their non-Transformers fans counterparts.
Just a day before the screening, founder and co-founder went to UIP's office to claim the ticket. After observing paperworks and payments we scrambled off with a stack of invitation cards. The coolest thing of all is the TransMY logo that is visible alongside the big guys will be the standard invitation card for all the screening on the 28th June.
On the eve, founder was busy packing the cards in the envelopes with numbering. For that process we have make use of Google Docs which was proven handy in handling tasks like these. All the seating arrangements and layout were created on a Google Docs spreadsheet.
On the night of the 28th June, we thronged the cinema in large numbers. Since earlier corporate screenings in 2D had taken place much earlier at 9.30pm, we had no one but ourselves jam packing the cinema's compound as early as 10pm.
We had a quick dinner at A&W with Admin Prime distributing tickets. All was smooth as late comers were able to receive their tickets at GSC itself after 11pm when TransMY was allowed to man the table left by UIP earlier.
By 11.30pm all tickets were claimed except for 3 who cannot make it due to unforeseen circumstances. At 11.45pm, our Hall 10 lights up and we proceeded to the hall in an orderly manner. In their faces, we can see the excitement of watching Transformers Dark of The Moon in 3D and also enjoying the perks as one of the early viewers to this world class extraordinaire flick.
Not to mention spoilers, we were really enjoying ourselves plus TransMyians managed to convince naysayers about the coolest part of watching them in 3D. Each action and surprises that has taken place was accompanied by cheers. In particular, the death of Ironhide and the betrayal of Sentinel Prime is the most shocking.
We were glued to our seats as the fast-phased action literally kept everyone awake. Even skeptics and 3D haters forgot that they had complications earlier about watching in 3D as the movie really kept them glued and busy! The long running hours makes the session endless.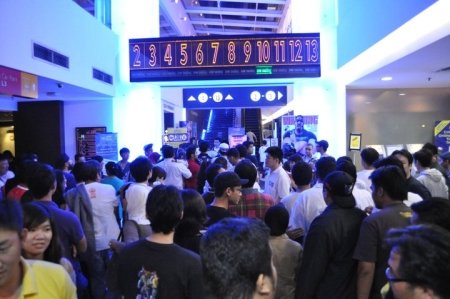 By the time we realised, we finished the movie with dawn fast approaching. Morning workers have to endure panda eyes and sleepless nights due to that.
Overall, the premiere was a memorable experience shared by all TransMYians in years to come. We were forever indebted by the privilege given by UIP to us as a token of appreciation to our members who were long time supporters of the Transformers franchise and also ardent helpers of the Transformers movie campaigns.
Thanks to UIP and fellow TransMYians for an awesome night.