TransMY Exhibiting in "A Bumblebee Christmas" in Atria
We have been invited by Atria Shopping Gallery, an iconic family neighbourhood mall in Damansara Jaya, in helping them to bring Christmas to whole new level this year!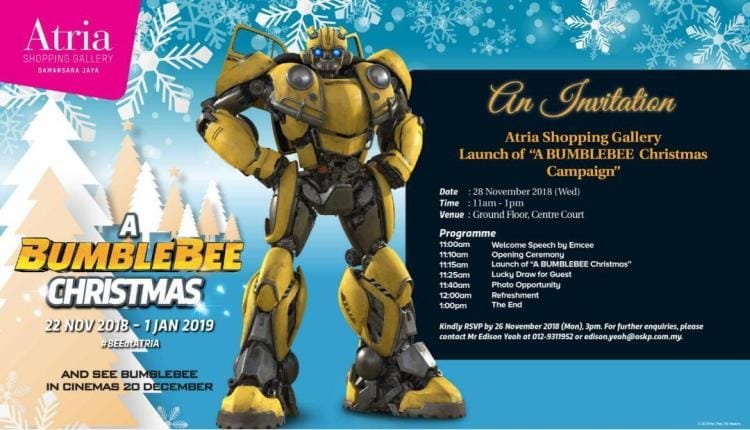 In conjunction with the Bumblebee movie screening, Atria in anticipation of the blockbuster action adventure film just like everyone else, has gone all out with a Transformers-themed Christmas. And that is one of the reasons we were asked to 'tag along' in exhibiting our stuff.
Also in partnership with United International Pictures (UIP Malaysia), Atria was given the honour to invite fans to celebrate Christmas with this iconic and well-loved Autobot.
The event has been filled and packed with various activities and visitors will stand a chance to get an exclusive 'Bumblebee' merchandise by Hasbro. Hasbro too is tying-in by having a booth within the event vicinity to showcase the upcoming releases of Bumblebee new movie toys.
A Transformers event is never compete without a life-sized statue! Just like past events, the statues was assembled and erected for your selfie moments. You can take photos, explore the garage of the legendary yellow Volkswagen Beetle car, join in competitions, and enjoy the sights of the exclusive Bumblebee action figure collection from the biggest 'Transformers' fan group in Malaysia, which is us of course – TransMY!
The official hashtag of the day is #BeeAtAtria, and tagging @AtriaDJ, you will also stand a chance to win exclusive merchandise! There's also a redemption going on if you shop in Atria where you will receive a special limited edition 'Bumblebee' key chain.
Credits: Atria & Sinchew
References:
1. Says
2. Chinapress