TransMY At World Cyber Games
After a spate of 'tours' with our exhibits, we landed in Capsquare on the 7th-9th Oct 2011 as invitees from PIKOM to spice up the event as side exhibitors. Though this event is not toy related but our presence there are as side exhibitors besides promoting War for Cybertron gaming.
Setup Eve (6th Oct 2011)
We rendezvous at A&W Taman Jaya for dinner before heading to KL. There were around 10 of us there ready to roll with one member has already been waiting there. At 8'ish we rolled out in convoys of 5 cars to Capsquare. Upon arrival we contacted Alan to guide us in. It was pretty easy to get in as the lane, along Persiaran Capsquare is a quiet lane with very little traffic.
To navigate our way there is easy and we were welcome by our member Fallenkia who is already there. He guide us there and just two levels up we are already there. The space we got is quite spacious with just a shop beside us. All the detolf displays were already allocated for us, and all we need to do is just mobilize!
We executed the setup almost pretty smoothly because it was easy and straight forward. Only 6 detolfs to manage and it was small. Understanding the nature before hand has given us advantage of not to over-carry our inventories! W wrap up the night just before 12 to make it to the nearest mamak in the Dang Wangi stretch, and here is the group photo of the team: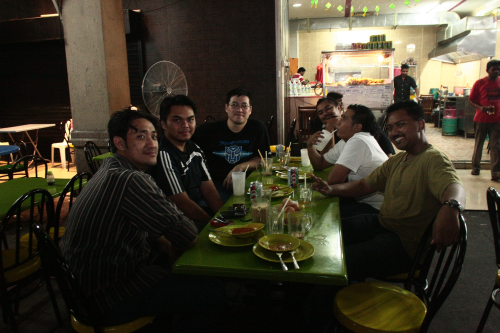 Day One (7th Oct 2011)
Only 4 of us were there in the morning since it was still a working day. The reception was quite overwhelming not by the games but from he office people who dropped by during lunch hour just to scour around our booth and took pictures of the displays with themselves in them.
We reported some minor glitches on the power mains as ours aren't working. The kind technical staffs got them fixed in no time. Apart from that Alan's request of getting the LCD monitor and some games were granted.
Just before lunch, the tech staffs hauled over a monitor and get them setup for us with of course the actual setup was done by us. Almost immediately we setup the PS3 and run War For Cybertron!
After Friday prayers, more members arrived to man the booth. At this point, the gaming competitions are already at their peak and many visitors thronging to see the action.
Around the evening, PIKOM distributed goodie bags to us containing T-shirts and stuffs. So, we had uniforms to dress up with the next day!
Day Two (8th Oct 20110)
War For Cybertron is in full swing. Our members took turn to try the game out along with Revenge of the Fallen and Dark of The Moon games. Many members attended and in full blue.
We made a few adjustments on the displays by adding stuff, rotating new figures for display and the boldest move of all – placing leader and supreme class figures on top of the detolf for better view! Though it face the risk of falling down, we had our guys stationed nearby to keep them in close watch.
We got free coffees from Starbucks and free Wifi today. That was awesome to keep us going and to buy time. Many visitors came and asked about the figures or the games. Some even offered to try out the War For Cybertron game which is awesome!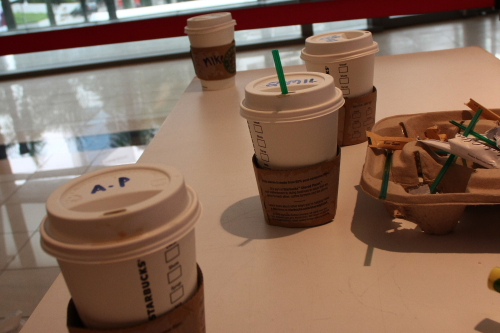 The day was awesome with a very fun atmosphere in the air.
Day Three (9th Oct 20110)
There were small disruptions on the power mains and after dealing with the ordeal for an hour, the organizer's tech support got them sorted. The earlier disruptions disrupted our gaming session for awhile.
After lunch, we are in full swing as many parents and kids had their first hands experience trying out the War For Cybertron game!
In between intervals, we played a marathon of movies – from the first movie until Dark of The Moon that pretty much glued the audience at our booth's entrance.
Another side activity that we are doing on day three is some sales. Alan Mark gave us the green light for us to do some sales and therefore our guys are all out displaying their stuff-to-let-go. Though not doing much sales, we were intrigued by people who chanced upon some collectibles they wanted but ended up getting them here in Capsquare during a gaming event!
The day ended smoothly and around 8pm we started packing up after an extensive photography session. Special shout out goes to our team who worked really hard for another event.
Thank you.