HTCC Transformers Customizers Battled Out For A Cybertronian Ride
While Singapore has been busy for the convention preparation, the battle for Cybertron Con 2012 on Malaysian side has begun where 10 of Malaysia's prolific toy customisers battled for a ride to Cybertron Con 2012 Singapore last Sunday.
This first ever Hasbro Transformers Custom Competition (HTCC) is a collaboration of Hasbro Malaysia, Transfans Malaysia (TransMY) and Toy Picasso.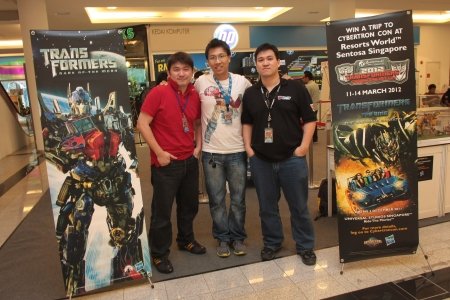 The winner of this contest not only receives exclusive Hasbro merchandise, they will also get TWO entry passes to Cybertron Con 2012 Singapore. Not only that, the winning custom Transformers will be displayed along with other winners from other participating countries during the Cybertron Con 2012 event for the world to see.
The convention will feature a plethora of Transformers toys collection across the era amassed from various collectors from around this region, panelist talks, cartoon animation, movie memorabilia's and video games.
To be held at the Resorts World Convention Centre, the event promises to bring smiles to fans with visually stunning exhibit to take fans through the chronological progression of the 27-year-old Transformers franchise, beginning with the classic 'Generation 1' era.Extensive artwork and information about the characters and stories, from Beast Wars to the blockbuster movie Transformers Dark of the Moon to the latest Transformers Prime animated series will be showcased.
The participants were each given a set of Takara-Tomy Transformers Dual Model Kit, DMK-01 Optimus Prime or DMK -02 Bumblebee to work on. They all will be judged based on:
Originality
Creativity
Concept
Backgrounds / Dioramas
Customizations
Presentations
Detailing
Overall Workmanship / Painting
The participants' custom was put on display for two days at PIKOM ICT Mall, Capsquare. The public were not only entertained with the participants' creative Transformers custom's as Transfans Malaysia (TransMY) members brought in their prized Transformers collections and customs along to be shared with the crowd.
The first ever custom competition saw unexpected entries, as two female customisers join in and became part of the top 10 finalist. It gets even interesting as participants were made up of various occupational backgrounds such as entrepreneurs, designers, lecturers and even accountants. The participants (based on the winning ranks) are as follows:
Jerrynn Wong Mee Jing, age 30, female (Champion)
Wong Khoon Hoong, age 24, male (1st runner up)
James Ho Jang Yong, age 35, male (2nd runner up)
Thong Yeng Howe, age 37, male
Mior Hezri, age 28, male
Izham Aris, age 35, male
Andy Wong Yet Tong, age 38, male
Becky Law, age 29, female
Jonathan Tan Boon Siang, age 32, male
Chai Chee Hon, age 41, male
Jerrynn Wong Mee Jing, a female customizer emerge victorious with her entry, "Shattered Glass Night Watch Optimus Prime". Her conceptualisation was inspired by the Botcon exclusive Shattered Glass universe and the first Transformers Movie. Her winning was certain as the judges were amazed of her amazing attention to detail and intricacy that she has put in the artwork.
The first runner up was Wong Khoon Hong with his huge entry, titled "Dark of The Moon". His concept was taken from one of the scene in Transformers Dark of The Moon. Not only it had been an amazing diorama in a package, Khoon Hong 'blinged' his artwork by including LED light effects to give it a sense of realism.
The second runner up was James Ho Jang Yong with his impressive metallic red Bumblebee dubbed as the "Bumbebee Mark 2". According to James, his idea came about when he saw the red Ferrari Autobot called Dino in the movie Transformers Dark of The Moon transformed. As Hasbro, has yet to officially release the character as a toy, he decided to create his very own Dino The Red Ferrari with a newly modded head sculpt, added gloss and bling.
Judging from the reception, Hasbro might start organizing similar events for years to come to provide an avenue for customizers to demonstrate their skills and being recognized by the Malaysian custom and modelling community. The event wraps up with a lucky draw treats for members of the public and fans.