Genting Highlands Transformers Movie Carnival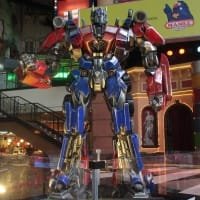 After the successful wrap-up of 1U Transformers Dark Of The Moon Rollout, our team hurried to finalise our convoy movements for the Monday night setup located at the Universal Walk, First World Plaza, Genting Highlands. This event is actually is a twin event involving the biggest balloon art festival where you can witness the Award Winning Balloon Art from Italy, Taiwan and Japan in various shapes and sizes.
Transformers Carnival is a filler for the balloon art event where you can find all licensed merchandise from t-shirts, caps, toys and gadgets related to the Transformers movie theme were sold here. Be sure to drop by and visit our exhibits as the event will be running from the 14th June to 26th June.
As for our exhibits, this time is much easier compared to 1U's Transformers Dark Of The Moon Rollout, as the event management, Jazzy Group only wanted us to assist in exhibiting Transformers movie toys.
The movie toys involved are from the 2007's first movie, followed by 2009's Revenge of the Fallen and this year's Dark Of The Moon toylines. Since Dark Of The Moon waves are not fully released yet, we are counting on Revenge of The Fallen's spin-off the Hunt For The Decepticons to be a filler for Dark Of The Moon's.
We were provided 3 glass showcases that measures around 10 feet x 1.5 feet with a pedestal of 4 feet. The showcases were secured by locks.
Our team assembled in Gombak's Burger King around 9pm. Our Subang/Shah Alam team arrived a bit late as we were contacted by the event management to get the showcases some locks which can be claimed later on.
We had a quick dinner and refreshment followed by a brief photoshoot. At around 10pm, we rollout up to Genting Highlands. As for headcount, we had 10 people in our crew. It was 11 initially but Maxheadroom (Sunny Wong) from Seremban can't make it on that evening.
Our journey was smooth along the way and it took us around an hour to reach the top. The venue is not so hard to find as we managed to reach the venue first hand without getting lost. The plaza is located on level one of the First World building. After calling my contact, we met and we were guided to the exhibition area.
Our team unloaded their stuff and the drivers went to the car park. I left Bad86 and Rafewkb to fix the locks on the showcases while I assembled with the rest on the ground floor to wait for the drivers to come back. After that we hurried upstairs and start unpacking. We were given an hour plus to finish as they are going to close down and barricade the area.
We delegated tasks with Protocol and Predaking manning the first Transformers Movie toys;  Pejalkira, Francis, Rafewkb and Admin Prime manned the Revenge of the Fallen showcase and Prime85, Jetoptimus85, Bad86, and Gema were in charge of the Hunt For The Decepticons and Dark Of The Moon showcase.
Around half past one we finished the task, and were guided to our sponsored hotel rooms in the First World Hotel. We got 2 rooms respectively at level 17 and level 18. Francis and JetOptimus85 went to bed soon after as they are going to descend to KL later on to work.
After storing our stuffs we went down for refreshments at KFC. After the meal, Protocol head back home to KL and the rest proceed to sleep. We had a good sleep and only woke up during the afternoon. Like usual, it was misty outside…the Genting thing.
We went for a tour around the exhibition area and visitors are assembling near the stage for some show. Quite a number walked past our exhibits and chance upon a snappy happy session with our little Cybertronian brothers.
It was a free and easy session for us as we strolled to look at our exhibits and the attention that it received from the visitors.
To prove that Transformers were an all rounder loved by every walks of life, here is one interesting fact for you to see. All these were taken while observing the reception of the public towards our exhibit. Not to brag but our exhibits was really an effective crowd puller as visitors tend to look at our stuff rather than the official dealer's stuffs.
Check these out: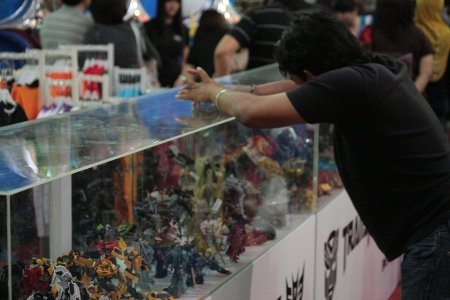 After looking at those good response, we were guided to look at some good stuff…and definitely it must have been related to foodies for lunch. We got ourselves passes to the food heaven in Genting Highlands, and guess what, we need to pass security checks for that as the corridor along the way were manned by a police guard room.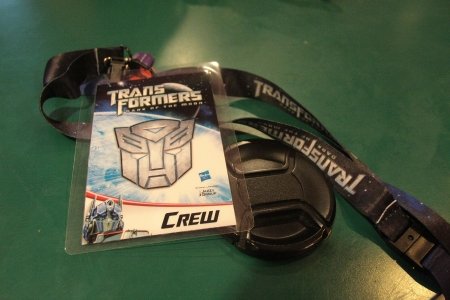 Each 'staff' are allowed an hour. We bet it is for traffic control to avoid overcrowding of the place. While outside this cafeteria foodie prices is crazy, in this cafeteria the foodies are kept low and cheap, and guess what..they are lower than an average mamak meal that you can find in KL streets.
A large portion of Thai Fried Rice with omelette costs me RM5 flat and a large ice milo costs me RM1.40. Seriously, this is one of those perks that helps Genting Highland resort staffs stays economical and thrifty in their spending.
Our team left the cafeteria nearly an hour later just to comply with the rules. The cops at the check point recognized us from our Transformers t-shirt and nicknamed us the 'Transformers guys'. They asked few questions about DOTM and looks very eager to watch the movie soon.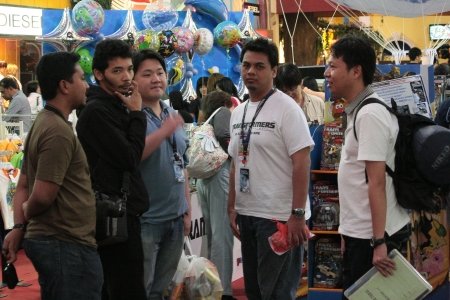 Maxheadroom (Sunny) soon arrive to join Rafe and Bad86, and as for us the KL team, is time to bid goodbye to our duty men Bad86 and Rafewkb. We left around half past 3 for work the next day. KL team will return to Genting again on the 24th June  for the final wrap up of our Transformers Dark of The Moon roadshows.
Special thanks goes to the team – Prime85, Bad86, Gema, Predaking, Rafewkb, Protocol, JetOptimus85, FrancisGoon, Maxheadroom and Pejalkira. Till all are one.