Expo Transformers Terbesar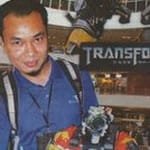 TransMY's small featurette in Haria Metro, northern edition during the most recent Queensbay Transformers Expo in held in Queensbay Mall, Bayan Lepas, Penang.

GEORGETOWN: Hampir 1,000 pengunjung tidak melepaskan peluang menyaksikan sebanyak 1,500 figura daripada pelbagai koleksi Autobot Transformers yang dikumpul ahli Kelab TransMY di Expo Pengumpulan Transfomers Terbesar 2011 di Queensbay Mall, semalam.
Antara yang menarik ialah koleksi Bumblebee edisi keluaran di Jepun pada tahun 90-an setinggi setengah meter yang bernilai lebih RM4,000 mengikut harga pasaran kini malah pengunjung juga berpeluang bergambar dengan model gergasi watak itu yang setinggi lapan kaki.
Pengasas Kelab TransMY, C.Y Wong, berkata, pameran itu adalah sebahagian daripada aktiviti kelab terbabit yang sudah menjangkau lebih 2,000 orang ahli di Malaysia yang mengumpul koleksi watak autobots itu.
Katanya, kebanyakan koleksi ini dikumpul sejak tahun 1990-an dari filem Transformers Generasi Satu hingga Tiga, Transformers The Headmaster, Transformers Super-God Masterforce, Transformers Victory, Transformers Zone hingga filem terbaru Transformers Cybertron, Transformers Robots in Disguise, Transformers Animated, Transformers Revenge of The Fallen dan Transformers 3 Dark of The Moon.
Antara watak yang dipamerkan selama dua hari itu ialah dari watak Optimus Prime, Elita One, Ultra Magnus, Jazz, Clifjumpe, Mirage, Blaster, Blurr hinggalah watak Dinobots seperti Grimlock, Slag, Sludge, Snarl, Swoop.
"Ahli kelab di Pulau Pinang adalah yang paling aktif dengan mengadakan aktiviti sekali dalam tempoh satu bulan dan kami juga menerima keahlian dari Singapura, Brunei, Hong Kong kerana kerana hanya kelab ini yang paling aktif bagi kawasan Asia Tenggara.
"Biasanya, kami akan bertukar pendapat seperti cara menjaga koleksi masing-masing dan cara pengumpulan yang lain. Secara tidak langsung, ahli kelab dapat berkongsi pengalaman dan minat masing-masing," katanya.
Sementara itu, ahli kelab TransMY, Muhammad Anis Fakhri Mohd Nesfu, 27 dari Batu Uban berkata, dia turut mempamerkan kira-kira lebih dari 100 koleksi miliknya dalam expo berkenaan.
Dia yang mula mengumpul koleksi itu sejak 10 tahun lalu berkata, sehingga kini, dia sudah mempunyai kira-kira lebih 3000 koleksi pelbagai watak yang tidak dapat dianggarkan nilainya mengikut pasaran semasa.
"Memang agak sukar menjaga koleksi begini, justeru, koleksi saya ditempatkan dalam sebuah bilik khas. Saya juga beruntung kerana isteri saya juga memahami minat dan hobi saya," katanya ketika ditemui.
– Harian Metro Utara