1st Northern Sector Yumchar Session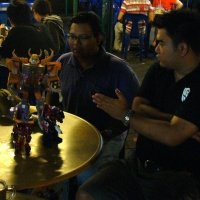 TCracker, an ardent Penangite TransMYian would like to invite all TransMYians from the northern sector (North Perak, Penang, Kedah & Perlis) for a nite out for a meetup and get-together in a casual yumchar session.

This was seen as the first yumchar session ever organised in Penang because during the time TransMY was founded, most of it's members are concentrated in Klang Valley. Only recent years, northern chapters such as Penang, Kedah and Perlis have had fans emerging after being collectors in silent and obscure collectors.
And this is yet the right time they shine and show themselves that their chapters can be as big and happening just like the bunch in Klang Valley.
Details of the yumchar session are as follows;
Date: 28th July 2007
Venue: Subaidah Nasi Kandar Restaurant, 4G Jln. Pantai Molek, Tanjung Tokong, Penang (next to Hot Wok restaurant after the Marina Bay condo)
Time: 9pm onwards
Attire: Casual as casual does
TCracker's contact: 012-4937620
Quorum: Minimum 10 people (depends on TCracker's discretion)
Formality: Casual session
This will be a double yumcha session in a single evening organised in 2 different sectors – Penang and Klang Valley! TransMY hope that both sessions will foster some beginning for TransMYans up north. Please SMS, PM (Private message) or email TCracker if you wish to come so to provide him a rough idea of how the attendence would be. 🙂
Kudos to TCracker for his effort and initiative!
"Till All Are One"
Discuss here
Reference: Subaidah Nasi Kandar Rest. website – http://www.subaidah.com.my