Thanks to "Natrix," we have some photos of a NEST Hummer that he spotted at a hotel in Arizona. The truck was in-transit to an unknown location on a flatbed truck. The truck was carrying the NEST Hummer from "Transformers: Revenge of the Fallen" and the Optimus Prime vehicle mode.
This is the same vehicle we spotted from the rear that we accidentally identified as a GMC Canyon or Chevrolet Colorado, due to the similarities in taillights.
The vehicle is actually a 2009 Hummer H3T (official website), which is basically a Hummer H3 SUT with a five-foot truck-bed rather than the little teensy one that the SUT runs around with. The vehicle sports the same color and design as the HX concept spotted on the set.
"Natrix" sent us a report of how he spotted the vehicle. Line breaks are mine for easier reading:
I'm staying at a hotel in Arizona and this trucker was checking in at the same time as me. I overheard him talking about having something in the back that he did not want a lot of people to know about.
After he went up to his room I went to the back of the building to check out what he was talking about. Turns out he had the semi used for Optimus Prime on the back of his truck, in addition to a new vehicle. Looks like a humvee with the word Nest stenciled on the side. I took the pictures with my Blackberry as I don't have my camera with me.
Went to dinner and came back, noticed he covered up the Humvee. The images that "Natrix" sent to us may be seen below.

NEST-ty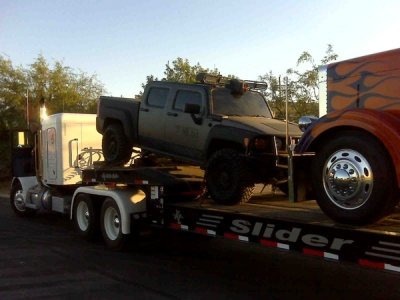 More NEST-tier

Prime NEST-ty too?
Source: TFormers
{mosgoogle}