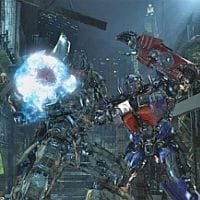 More Transformers Ride Updates
11/11/2011
While the premiere is just around the corner, here are some fresh news by Sun Daily and RWS itself.
The launch of  the world's first Transformers theme park attraction based on Hasbro's iconic Transformers brand will take place in Universal Studios Singapore on Dec 3.
Transformers the Ride will celebrate its world premiere at an exclusive event on Dec 2 with Michael Bay, the director and executive producer of the Transformers blockbuster movies, in attendance.
This breakthrough attraction will feature 12 scenes, comprising sets blended seamlessly with hyper-­realistic 3D digital media and special effects to bring tactile realism to every moment.
Guests will be transported into the Transformers universe, and take part in the ultimate 3D battle against the Deceptions right alongside the ­Autobots.
Also, they will get to experience Resorts World Sentosa's latest attraction – the Maritime Experiential Museum & Aquarium (Mema). Housed in an iconic steel-and-glass ship hull at the waterfront, Mema promises a new museum-going experience ­showcasing rich Asian maritime history.
And for a bite afterwards, indulge in a wide ­variety of authentic Malaysian hawker fare at RWS's ­Malaysian Food Street, which offers dishes from different parts of Malaysia.
-sundaily/rws