The Transformers World 2005 "Insider" claims that three bikes built by Retro SBK specifically for the "Transformers" sequel, will combine to form Arcee.
These three bikes are identical except for color – one is pink, one blue, and the other purple – and were first seen in a behind-the-scenes video on Wal-Mart's website in promotion of the "Transformers" re-release on DVD. The video showed three identically-dressed women riding the motorcycles in a warehouse.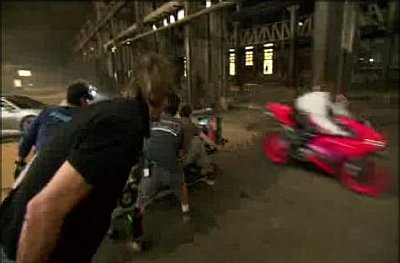 This rumor should be taken with a large heap of salt, mainly because Mr. Orci has discredited this source before. That particular rumor is in regard to Soundwave's alternate mode.
Both Seibertron and TFW reported that Soundwave's Cybertron mode will be a satellite, but on top of that, TFW reported that the character's Earth mode will be a pick-up truck. This additional part reported by TFW was discredited by Mr. Orci, which he cited as "misinformation."
Source: TFormers
{mosgoogle}