7ft Custom Optimus On Ebay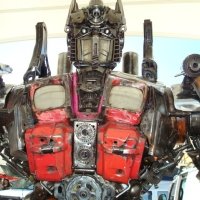 If you've got 15 minutes to read West Loh's pitch. You're in for quite an interesting story. This sounds a lot like some get rich quick deal, but he's definitely got plenty of images to show and much to explain about his mission to sell a 7 foot Optimus Prime made from actual car parts. Put that wallet away. The starting bid is $47,000 AUD ($43,000 USD).
This unit is off the charts when it comes to custom action figures. It is solid welded steel and must weigh near to a ton. Forget the auction price. The shipping is going to be killer.
Read the copy from the Ebay auction below. As always with these things, let the buyer beware. A Rare Opportunity to 'Transform' Your Bottom Line, and 'Roll Out' With The #1 Publicity Machine This Side of Cybertron....!
You've just stumbled upon an opportunity SO RARE, only a few will ever get a chance to read this page before it gets taken down forever.....
Best Part: If you're reading this, you have a window of opportunity (albeit a small one - probably hours) to snap up Optimus Prime Right Now!
Tuesday, 10:30am December 10th, 2009: An Urgent Personal Message From West Loh
Dear Fellow Autobot Allegiance Member,
My name is West and if you've got 15 minutes, I'd like to personally introduce you to Optimus Prime and how to maximise his involvement in your organisation. Until recently, Optimus Prime remained unconscious for millions of years. After the shuddering earthquake on Tuesday, May 8th, 1984, Optimus was suddenly awoken from slumber by his ship's repair system.
Now, after decades of battling the evil Decepticons and having saved the Earth, Optimus has re-surfaced from hiding, and is available to serve you and your business!
How It All Began
Please let me explain more and I'll tell you what this is all about....We'll start where it all began, deep inside the psyche of the mastermind behind Optimus....
Inside the head of Optimus' creator
Let me tell you about the master artist behind Optimus. Imagine a person who was so obsessed with his craft, that he lived and breathed Optimus, his journey's, his battles, his flaws. Day and night, for 3 whole months he immersed himself in getting to know this great leader.
He watched every transformers movie, every television episode (starting from the beginning original cartoon series) and read every comic book he could find.
He felt he could never create a true representation of Optimus unless he felt he knew him personally. And he did. He could tell you what Optimus favourite sayings were, what he'd do in certain battle situations, and how he has changed over time, and even become (dare we say it?) a little more human.
Then, over a two week period he visited every scrapyard, every car yard, every mechanic and asked every friend he could to attain the raw materials to create Optimus. He spent close to $10,000 buying the raw materials, which were pulled from lawnmowers, cars, trucks, chainsaws, motorbikes, toolsheds, factory machines and anything else he could think of. He then stripped them to their bare essentials, and got to work.
He locked himself away for 75 days and nights, wielding only a welding instrument and a few other basic power tools, and from the rubble, emerged Optimus!
Why would he offer to Reveal Optimus Secret Hiding Place?
Like many business owners during the Global Financial Crisis, the artist behind Optimus had to take desperate measures in order to keep his business afloat and put food on the table for his family. The Global Financial Crisis has hit most industries with a sledge hammer, and when its time to cut on expenses, extravagant artwork is THE first thing to get the boot from budgets.
He's decided to let his prized possession go in order to not only feed his family and pay the rent, but be able to afford some christmas presents to make this year a memorable one. This is the gift Optimus will give to him. Which means you get Optimus at a seriously discounted price.
Here's 8 Compelling Reasons Why Optimus Needs To Serve YOU!
1. There's only ONE of Optimus. That's it. No copies, no second chances. This is literally the only and last look you'll get at having optimus serve you in your business, organisation or community. If you miss out on this opportunity to a competitor or a private collector, you'll be rueing it for a lifetime.
2. Many small to medium sized organisations routinely spend $100,000 + on pieces of obscure artwork to decorate their bare walls. For less than half of that, you'll not only own a piece of transformer collectible history but you'll see a measurable return on your investment within weeks of displaying him.
3. Do you own a business that could benefit from millions of dollars worth of free publicity? Are you in the toy retailing industry? Or Any industry to do with children?
Here's why I ask:
Optimus LITERALLY stops people dead in their tracks. When I first saw Optimus, he was surrounded by mad-raving transformer fans. They couldn't get enough of him and sounds of ghast and amazement rippled through the crowds as people called their friends to come take a look. The guy looking after Optimus was charging $30 a photo, with people happily paying to get a photo with Optimus! He also had a donations box for people who appreciated the exquisite detail Optimus has. Needless to say, he made a good living from these two income sources alone.
The same idea would work exceptionally well in a display window outside your store, or just as well if you have an open foyer in your building with lots of human traffic.
- An obscure piece of original artwork these days (paintings, sculptures, abstract) can routinely set you back anywhere from $5000 - $300,000. And apart from covering a big bare wall, and attracting not much attention at all, they usually don't add any monetary, real-value to your business. As we've already discussed, you can turn Optimus into a money making machine! And if you ever decide to resell him (say in 3 years time when Transformers 3 comes out, he'll make you a handsome return).
- A full page advertisement in the local newspaper will cost you up to $10,000 for ONE day! Optimus will provide a steady yet strong stream of traffic and publicity for you.... FOREVER!
- Many medium-sized companies, as a matter of policy, give their CEO's slick, executive $150,000 + company cars to drive each year. I'm sure they'd be ok driving a $100,000 car this year in exchange for a massive rise in profitability and brand image, which is priceless.
- How much is your annual marketing budget? How much do you spend on advertising in magazines, television, on the internet? Do you think a small investment now, that would return endless publicity, attention, would be worth considering? How about if all those people came to YOU in an eternal stream of leads?
4. Are you a private collector of Transformers and looking for the piece de la resistance to make you the envy of every transformer collector on the planet?? If you're a true Transformers cult fan or collector, you'll know that private collectors will pay a mint for a rare figure or brand new in box Generation 1 Transformer or anything rare and transformer related (In fact, I just saw an auction for a toy Optimus Prime going for $3600 USD). Just do an ebay search if you don't believe me. You'll also know that Optimus Prime is usually right at the top when it comes to highest bidders and popularity. So, the question isn't IF this super rare (only 1 on the planet) autobot will be sold, it's WHEN (and more importantly, are you going to be leading Optimus in his next mission or is your competitor?!).
5. We've had to liquidate Optimus fast due to the Global Financial Crisis. Do you know someone who would pay a mint for Optimus? Why not buy him at a discount and make money selling him to your best contacts?
6. Are you in charge of a large shopping mall, park or public open space? Are you looking for impactful, show stopping pieces of artwork to give the area and the collection that exclusive, high end feel at a fraction of the cost of all the other artwork you've invested in?
7. Are you a steward of hollywood memorabilia? Is it your responsibility to ensure you seek and acquire the best, most rare and exclusive human inspired creations on the planet? Perhaps you want to showcase Optimus at your museum. Maybe you own a Planet Hollywood and want to be THE Planet Hollywood that everyone talks about, leaving your competitors in the dust?
8. Would your tech firm benefit from the aura and 'coolness' of having Optimus watch over your employees? Imagine how productive they'd be if they knew Optimus hand cannon would be unleashed on them if they didn't outperform expectations. Get a piece of Optimus' unbreakable strength in your business! Optimus wishes to pass you this message (click to hear):
If you've read this far, I'm guessing a world of new ideas are swimming around in your head right now, and you're interested in learning more about how Optimus could work for you (and I want to thank you for your time). Here are some of the tech specs about Optimus which you should know:
-We don't know the exact weight of Optimus, due to the varying weight of his energon matrix cube. However, close estimates are between 450 - 550kg of raw metal. You may need to consider this if you live outside of Australia and wish to ship Optimus overseas. See below for more detail on shipping options and dimensions.
- Optimus Prime will lay dormant in a wooden crate during his journey to his new home outside of Cybertron. He will be dismantled upon dispatch and can be easily put together upon arrival (so easy, in fact, that assembly instructions are NOT even needed!)
- Optimus, when in transport mode, is able to remove his head from his body and stored safely. His legs and torso are in once piece. His arms and his gun lifts off easily which makes transport alot more efficient, and almost eliminates any chance of damage (we both know how tough Optimus is).
imus in full Autobot mode towers 220cm tall. Yes that's 7 foot 2 inches! He is GIGANTIC compared to a normal human being, just like in the movies. In fact, with the average height of an NBA player at 6 foot 9 inches, Optimus towers over 99% of the worlds best Basketballers playing for the NBA!
-Optimus wields an almost metre long Laser Photon Gun Made from a Honda Chrome Exhaust Pipe (see above). It's heavy, and a weapon of mass destruction, but it is currently unable to be wielded here on earth (on Cybertron, however this weapon wreaks havoc on Decepticon scum!)
-Optimus Prime has two protective clear coats of lacquer over it, however continuous exposure to the elements may cause it to rust if it wasn't treated on a regular basis.
-All the workmanship on the welding is 100% guaranteed. If you find otherwise, I will personally arrange and pay for that joint to be welded back so Optimus health is fully restored. Rest assured, he is as durable and bulletproof in real life as he is in his starring roles!
-You may need to clean Optimus if you are considering having him around kids. He's made from 100% raw materials from chainsaws, bikes, cars and the like. Those chainsaws had oil and dirt all over them and the artist wanted to maintain that rustic feel.
More photos at higher resolution can be given upon request (contact me using the contact seller link above).
Final Note on Optimus: This creation does NOT transform into a truck, and will remain permanently in autobot mode. If you wish to get a separate metallic creation of optimus in vehicle mode, that can be arranged at a future date upon customised request. Please also note that Optimus does not move freely or have any form of animatronics inside (at least, not yet - perhaps you might be able to rectify that and use it?). He is a static figure as he stands right now.
Check the auction here