3000 Units of Chevrolet is Naza's Aim For 2011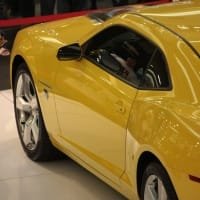 Naza Quest Sdn Bhd aims to sell about 3,000 units of the Chevrolet in Malaysia within this year. "We believe the upcoming blockbuster movie, Transformers 3-Dark Of the Moon, will help Chevrolet increase sales in Malaysia," said the Chief Operating Officer of NAZA Quest, Datuk Maruan Mohd Said.
He was speaking to reporters at the launch of the Chevrolet Transformers 3 roadshow, here Tuesday. The Chevrolet brand has long been associated with the Transformers Movie series and the Bumblebee Camaro is back for the Transformers 3 as well.
NAZA quest is the sole and exclusive authorised distributor of General Motors products under the Chevrolet brand in Malaysia. It distributes at present Chevrolet brands like the Cruze and Captiza.
"We are going to have two new models by year-end, the Chevrolet Colorado show truck and Chevrolet Orlando," Maruan said. The Chevrolet Colorado was unveiled at the recent Bangkok MotorShow.
Meanwhile, the "Transform the Future – Get Intimate with Chevrolet", roadshow will be held from today to June 12 at the One Utama Shopping Centre.
Naza Quest Sdn Bhd is a member of the Naza Group of Companies which has 19 dealers throughout the country.
-bernama