Rosie Wore Lingerie To TF Audition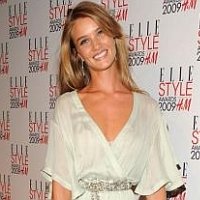 Rosie Huntington-Whiteley's risqué choice of clothing to her audition for a role in Transformers 3 is said to have helped the British model score the part.
"Rosie wore a white, see-through lingerie top and panties,' an on-set insider has exclusively told Hollywood Life. 'Shia was there to run lines with her. It was a formality, she had the part, but she had to meet Shia to see if they gelled.
Having her in as little clothing as possible was just the icing on the cake. When she walked down a staircase in that outfit – wow."
The 23-year-old Victoria's Secret model will replace actress Megan Fox in the third instalment in the action franchise. There have been a number of conflicting reports as to why Fox will not be reprising her role in the film.
"No matter what people spin or say, Megan Fox was fired,' the source said. 'She was very bitchy on the first two films; she always had an attitude. So it wasn't a surprise that she got booted from the third film."
-Monsters & Critics