Cheat Sheet You Need To Know About DOTM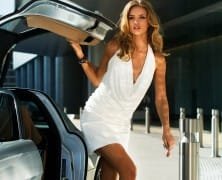 This is an interesting read regarding the cheat sheet that we need to know about Transformers Dark of The Moon. Before the second "Transformers" even hit theaters, director Michael Bay was already saying no to a third installment — or at least one that would hit theaters in 2011.
It was back in February 2009, a full three months before the release of "Revenge of the Fallen," that Bay said there was no way he'd helm a third "Transformers" flick (later titled "Dark of the Moon") and get it into multiplexes little more than two years later.
"I would like to take a year off," he told us at the time.
But whaddya know? Bay not only ended up agreeing to whipping together the 3-D flick in time for this year's Independence Day weekend, but Paramount ended up shifting the release to June 29 (June 28, if you count the many 9 p.m. showings). How did we get to this point? To understand that transformation — to learn everything there is to know — we'll have to travel back to mid-2009: Hop aboard our "Transformers: Dark of the Moon" cheat sheet:
Reworking the Bay-hem
By October 2009, coming off the poorly reviewed but $836 million-grossing "Revenge of the Fallen," Bay had cleared up the release date issues and announced that preproduction on the next film had begun. Increasingly, it appeared as though the new movie would be the first "Transformers" to get a 3-D release. "We're literally in the middle of that. There's no definitive answer," producer Lorenzo di Bonaventura told us about the chance for 3-D.
But the news about 3-D took a backseat to a rather shocking casting move in May: Megan Fox would not be returning to the franchise. She and Bay had previously shared a contentious creative partnership (remember when she compared him to Hitler and he called her immature?), but suddenly the two had parted ways. Possible replacements for Fox included Brooklyn Decker and Gemma Arterton, but the job eventually went to Victoria's Secret model, and Hollywood newbie, Rosie Huntington-Whiteley.
"I think there's positives and negatives to her not being [in the movie]," LaBeouf told us about Fox. "It's awesome that we get the discovery again. I think when everybody's vetted and everybody's been through these wars, then that discovery of the first film is nonexistent. It's kind of beautiful in that we get a new set of eyes, a fresh set of eyes for the audience to vibe with. So you get the discovery again, which is something that wouldn't happen if Megan came back."
New "Moon"
Filming kicked off on the still-untitled film last summer. It wouldn't be until the fall that it officially got a title. And the reason for that moniker wouldn't become clear until December, when the film's teaser trailer popped up online. It didn't feature LaBeouf or Huntington-Whiteley — or any of the stars, for that matter — but it did make clear the story would be tied into the Apollo 11 moon landing.
The trailers that followed, one 30-second spot during the Super Bowl and a second official trailer that dropped April 28, didn't help explain the film's storyline any further, but did continue to tease Bay's famous action sequences and the new gorgeous girl.
About That New Girl …
Speaking of the lady in question, who admitted recently she thought she bombed her initial audition, Huntington-Whiteley's co-stars Tyrese Gibson and LaBeouf assured us that the first-time actress has a lot more going on than just a pretty face.
"Rosie is going to surprise a lot of people," Gibson said. "I have to go on record and say that she did not replace Megan Fox. She's a brand-new character; her name is Carly in the movie."
"She completely owns her sexuality," LaBeouf added. "Which I think helps, especially on a movie like this where it's a blanket summer movie and there are certain requirements of a woman in a summer movie."
Rising to Meet Technical Challenges
Director Bay entered new territory on this third installment by doing away with his preconceived notions and shooting the film in 3-D, which, according to him, forced him to deal with a whole new set of filming challenges.
"It's hard with my style of shooting and taking [a camera] and strapping it to guys who are skydiving off buildings and helmet cams," he said. "It's a technical nightmare. You don't even want to tell your viewers how technically complicated this stuff is."
On the other side of the technical spectrum is the amount of wirework required of the actors for the various stunts and action sequences. The specifics behind why the wirework proved to be so difficult, aside from the obvious hanging around, became very clear when LaBeouf, Gibson and Huntington-Whiteley offered a detailed (and highly entertaining) explanation of the various body parts that get pinched during the process.
"Yeah, I don't like the wires," LaBeouf admitted to MTV News. "Really, you can ask any man."
"All the things cut into the wrong places, put pressure on the wrong bits," Huntington-Whiteley added. "Whatever it does to a man, it also does to a woman."
"Thank God I have a bigger ass so when you put the harness on, the ass is able to help you stay away from the front part," Gibson explained. "It kind of balances things out a little bit. When your ass is flat and you have to have it going over the front, it is a bad day in America."
-MTV