hi ho. new bie here 😀
Hi bro RX-78, and welcome to TransMY Community.... :biggrin: :biggrin:

Enjoy your stay and have fun with other members.. :biggrin: :biggrin:

DO share us your collections........ :biggrin: :biggrin:
hi peep! sorry for late reply for all post. there is quite hard to reach good interenet connection since no unifi yet at kedah
and unfortunately, my all collections still at kl. so cannot share with u all guys.. 🙁
Topic starter
Posted : 15/03/2012 6:14 pm
Rx-78, this nickname looks familiar, from LYN also rite? :p

welcum bro, consider a Taikun as ur collections line are those MP and 3rd party hehe.. :p :p

1st step after joined TransMY, intro here, good start.

then... it's time to share your collections huhu.. 😉
hi kiienkyan, thanx for pleasant welcome. ;D
taikun? nop lar...just begin my 1st step into this hobby. :biggrin:
need to learn more from u all sifoo!. ;D
Topic starter
Posted : 15/03/2012 6:21 pm
welcome bro....n SMITE!!
With a strenght I can be proud of, I live only for myself, and only for myself I'll die. I'll never die for someone, 'cause I know the pain of who remains alive. This is my pride.
Posted : 15/03/2012 7:42 pm
Hi Bro,
Welcome and enjoy your stay, I'm penangite too:)
Posted : 15/03/2012 8:00 pm
welkam bro gundam rx-78 :biggrin: :p
u collect UC or the one after that? my interest in gundam only started in CE, Gundam Seed. after that Gundam 00 story is bored to me (sorry for other gundam fans out there). and now my interest lies in UC Gundam Unicorn. very cool mech design and awesome story there.
"After DOTM, Michael Bay has secured his place in my mind as the only director able to direct movies suitable for TRANSFORMERS
However, please reboot ROTF & DOTM :peace:"
Posted : 16/03/2012 3:47 pm
Posted : 16/03/2012 8:52 pm
hi bro...welcome to our humble abode...jangan malu jangan segan we all tak makan orang...whatever u got, feel free to show...need answers, just ask..we would be glad to answer.
enjoy ur stay n do have a pleasant one yeah
Posted : 22/03/2012 1:48 pm
welcome to transmy..
till all are one!
One shall stand... One shall .. OPOCOT!!
Posted : 29/03/2012 3:27 am
welcome on board, bro... 😉
kedah? which part of kedah?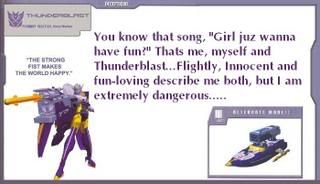 Posted : 29/06/2012 2:03 am