TransMY: A Journey to CybertronCon 2012
a bit late, but butter late than never..so enjoy the vids! 😎
here's a video of our team's journey to Cybertron Con 2012 recently. Part of the video is member's interviews before the trip, during and after.
Our video features Jerrynn and her custom, if you fancy to know how she talks and look like, she is available in 16:40. There's also an interview with Eric Chong of Hasbro Malaysia in 17:50.
The closing is will be some haul bragging.
Check the vid out:
http://www.youtube.com/watch?v=O7_NrMhacxM#!
Topic starter
Posted : 30/03/2012 8:42 pm
Ok ler... Will watch this at home later...
Thanks Bro Syed for the video update... :p
Whose Side Are You On?
My TF Collections: http://www.transmy.com/forum/collections-showcase/vic2293's-transformers-collection/
Posted : 30/03/2012 8:49 pm
awesome upload Syed..good work bro!
Posted : 30/03/2012 10:43 pm
no hal la..
hasil render 10 jam... huhuhh
Topic starter
Posted : 31/03/2012 12:26 am
sebab 10 jam tu la klin tk dpt lagi nk tgok full video...
lame tul buffering die...huhuuuu
tapi apepun..thank you... 😉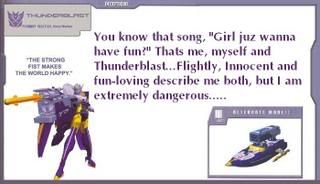 Posted : 03/04/2012 2:34 am