Comic: Shadow Commander
Here its something simple to share with. Its a very simple comic I do, yet to add in any effect.

Topic starter
Posted : 01/05/2009 11:29 am
nice! keep it coming...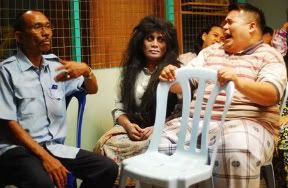 " aPeKeJadaHnya kaK LimAh bUat kaT sIni?"
Posted : 01/05/2009 3:50 pm
Cool!
Posted : 02/05/2009 9:15 am
Thanks to all the help.. oledi able to post the photo. 🙂
Topic starter
Posted : 03/05/2009 9:14 pm
Hi.. i wan to get some idea. Pls trow in.
I m in the middle on planning to do a sequel on the comic, using tf toys, Henkei.
The comic... i will add in animation, minor one, to make it nicer to read. something like web-episode.
I was thinking to use Lego as the diorama, background and etc. Will it look weird.. coz Lego its kina block block pattern?
The Storyline
After the great war (the animated Movie), decepticon were defected and loss without their leader. And for autobot, leadership were under Rodimus Prime.
Rodimus still unable to forget the moment of Optimus Prime being heavily damage Megatron.. and he always blame himself for this. And with the help of Spike and earth force, they try to re-resurrect Optimus Prime.
A special task force and lab were into R & D of transformers, involving earth top scientist and engineer. They found out some of the transformers working mechanism. A test being done.
A new set of Transformers its born (the henkei line.. modern design transformers). And Optimus Prime also. (trailer are not upgraded.. thats why will use the G3 trailer)
UM were heavily damage also.. and with the upgrade to become City Commander!
Mean while... decepticon, Cyclonus were hiding and monitoring the situation. He being looking into the history and what have goes wrong in decepticons. And with the great loss, he need to plan well.
He learn that, there its bad human being.. and greedy. He approach few and make a details. They manage to go inside the lab and stole the blue print of UM / City Commander. And make their own Shadow Commander!
Cyclonus need a greater weapon, and the only thing he could think off its Unicron! But the resources were too much to build such a HUGE unit... so, they small scale down the Unicron (supreme class, the one I got from Toy R Us). The great battle begin again!
Pls comments...
Topic starter
Posted : 15/01/2010 9:41 am
flashout wrote:
I m kinda still cannot get how to post photo in here. anyone can help me out?
use flickr or photobucket..etc..
then you only need to copy the link file.
it easy once you get use to it..
Tuu rannss suuu fooorrmmM!!


Posted : 15/01/2010 6:17 pm