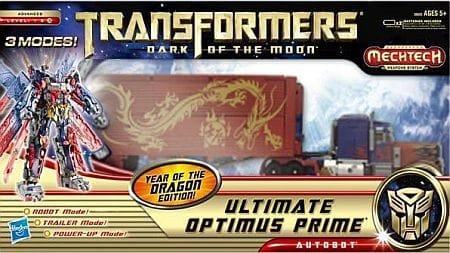 DOTM Year of the Dragon Edition Ultimate Optimus Prime
20/11/2011
There is many speculations about this Transformers DOTM Year of the Dragon Edition Ultimate Optimus Prime saying that it was a hoax. Since there is many official solicitations from fans like TFW2005, Kapow Toys UK and STFU, this might be real after all.
The image of this upcoming Asian exclusive has been circulating in the net from numerous Transformers forums. For Asians who is celebrating the lunar new year, this edition might be a cool one to add up in your already existing Optimus Prime collection.
Not sure how the robot mode looks like but from the looks of the pictures, the trailer comes with a red (auspicious to Chinese) trailer with a golden dragon decal.
This figure is slated for January 2012 just in time for the Chinese/lunar New Year. Check out the image after the jump.