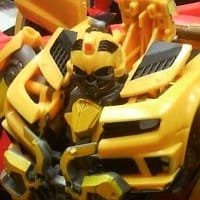 Another DOTM Leader Bumblebee & Deluxe Starscream Closeup
27/01/2011
Today, in an undisclosed rendezvous with a contact, TransMY forum member Onizuka Takahashi has got hold of the supposedly leader class Bumblebee from the new movie Transformers 3 Dark of The Moon line and had first hand experience playing with the toy.
Onizuka observed the toys and claimed that there are no electronics on the Bumblebee figure itself but surprisingly all the electronics are actually in the Mech Tech attachment.
This Bumblebee stands a head shorter than the leader class Battle Ops Bumblebee. In contrary to his other cousin, there are no gimmicks in his blaster arm for this Bumblebee.
Interesting to note that the head of this Bumblebee is the same size with the ROTF Human Alliance version. The chest could not pivot more downwards for a more natural look, so he looks like as if he is in hunching position.
However, he has more extra articulations in the form of new joints especially located on his heels and ankle, allowing more dynamic poses. The extra front piece on his chest is rather an eyesore but it was guessed that is it used to distinguish him as being more heroic in a manner.
Accompanied with the set of Onizuka's observation today is also a set of Deluxe DOTM Starscream with a closer view on all angles particularly showing the undercarriage, with very minimal kibble. Oh yes, he is still with his infamous chicken feet as you all can see below.
Please take note that these items are not OFFICIALLY released yet.
-Creds: Onizuka