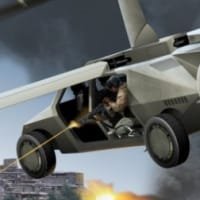 Robot Pilot For Pentagon's Flying Humvees
13/11/2010
0
By
Administratus Prime
The U.S. military's flying car will be getting some robot assistance from Carnegie Mellon. The Defense Advanced Research Projects Agency (DARPA) has awarded the university with a 17-month, $988,000 to aid the Transformer Program — a plan by the secretive agency to develop a military vehicle with flight capabilities.
The envisioned vehicle would be capable of transporting four people and 1,000 pounds of payload up to 250 nautical miles, either by land or by air with a focus on mobility. But the vehicle can't just fly, it will have to fly itself.
"The [Transformer Program] is all about flexibility of movement and key to that concept is the idea that the vehicle could be operated by a soldier without pilot training," said Sanjiv Singh, CMU research professor of robotics in a statement.
"In practical terms, that means the vehicle will need to be able to fly itself, or to fly with only minimal input from the operator. And this means that the vehicle has to be continuously aware of its environment and be able to automatically react in response to what it perceives." Singh has already demonstrated similar technology in the past.
The University's robotics lab successfully flew a full-size helicopter autonomously this past summer with the hope that the system could aid Medevac rescuers who often have to navigate helicopters through dangerous situations. Both DARPA and a spokesman for CMU refused to offer more information about the program.
-Foxnews