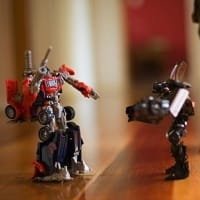 Transformers: UK Most Popular Toy For 25 Years
01/10/2010
The "Robots in Disguise" and Optimus Prime have remained as popular today as they were in 1985, industry figures show. Experts from Toys R Us have disclosed the best-selling toys of the past 25 years as Britain's biggest toy chain celebrates a quarter of a century of trading this year.
The chain, born in September 1985, has marked its anniversary by releasing details of the nation's favourite toys from their top selling gadgets and games. According to company figures, Toys R Us has sold more than 2.5 billion toys to 300 million customers at the chain's 75 stores across Britain.
But despite children's playtime habits have changed over the past 25 years, it seems youngsters still appreciate the wars between the Autobots and the Decepticons. Experts said the 2007 Hollywood film, starring Megan Fox and Josh Duhamel, helped keep the toys in the bestseller range.
"While technology is now more popular than ever before with children, customers who have been with us for the full 25 years will start to recognise some toys which are making a comeback," said Mike Coogan, the chain's marketing director.
"Back in the eighties all the kids wanted to own the Transformers robots, and while they died out during the nineties they are hugely popular once again due to the 2007 movie which was based on the original series."
The toy giant said it had witnessed a dramatic shift in tastes. Two decades ago children were nagging their parents for football stickers, Sylvanian Families and Transformers Robots.
But in recent years some of the biggest sellers have been high-tech toys such as Nintendo Wii, PlayStation 3 and XBox 360.
What has also remained consistent is the impact and influence of television programmes and movies, Mr Coogan said. "We are… seeing huge demand for soft toys and characters from popular TV shows – even more adult shows such as Who Wants To Be a Millionaire influences the games parents are buying for their children," he said.
It all began with Transformers, Robots in Disguise and Optimus Prime in 1985. The vehicles that switched from vehicle to robot and back again were in huge demand at Christmas. Since then Teenage Mutant Hero Turtles (1990) and GameBoy (1991) Power Rangers (1194) and POGS (1995) have all had their 15 minutes of fame.
Bob The Builder, Bratz and BeyBlades are also names which will ring bells with mums and dads up and down Britain. In 2008 High School Musical Dance Mats were hugely popular. The following year Go Go Pet Hamsters were the must-have.
Other movies and TV merchandise loved by kids over the years includes In the Night Garden, High School Musical , Batman and Ghostbusters. Most recently Toy Story 3 launched in UK cinemas and insiders speculate sales for the movie's merchandise will be massive this Christmas.
Toy Timeline:
1985: Transformers, Robots in Disguise Optimus Prime £16.87. The vehicles that switched from vehicle to robot and back again were in huge demand at Christmas. Pound Puppies also appealed to the younger children.
1986: Football Stickers. Just 10p per pack. The year of the World Cup – and Maradona's infamous 'Hand of God' goal – sparked a nationwide playground sticker craze.
1987: Sylvanian Families. A Family set for £6.97. The cute little animal families came with hundreds of accessories – everything from houses to clothes and even table ornaments.
1988: Ghostbusters Proton Pack £19.87. Kids everywhere wanted a replica 'proton pack' to capture spooks.
1989: Batman Bat Mobile £9.94. Batmania swept the UK with the launch of Tim Burton's Batman movie.
1990: Teenage Mutant Hero Turtles. £3.78 for each figure. The 'heroes in a half-shell' (Michelangelo, Donatello, Leonardo and Raphael) kung fu kicked their way out of the sewers of New York and into the hearts of British youngsters.
1991: GameBoy. £69.94. Nintendo launched the pocket-sized computer game in the UK to a rapturous reception.
1992: Thunderbirds Tracy Island £32.87. Thunderbirds was reborn and dads treated their kids to the famous 'Tracy Island' causing queues galore at Christmas
1993: Barbie Dolls from £10.97. Ever popular, the beautiful and perfect Barbie was a huge favourite for girls this year.
1994: Power Rangers Figures £4.74. The launch of Power Rangers caused worldwide demand with their 'GO GO Power Rangers theme tune.
1995: POGS. 49p. A new craze swept the school playgrounds and became a sensational success. These little 'milk caps' were meant to be collected – and flipped like outsize tiddlywinks.
1996: Toy Story Buzz Lightyear £23.87. The Pixar movie opened in Britain setting a new standard for animation and making overnight sensation of Buzz Lightyear.
1997: 2 in 1 year – Teletubbies £27.39 and Tamagotchi – Teletubbies took the BBC by storm and Tamagotchi became the new playground craze as virtual pets came over from Japan. The egg shaped virtual pet sold over 40 million pieces in 1997. Both toys created massive queues at Toys R Us made overnight deliveries to cope with demand.
1998: Furby, the Interactive Pet £24.87. Furby, the Interactive Pet from Bandai launched in late October and became the big Christmas toy. Yo Yo's were also a bit hit this year.
1999: Who wants to be a Millionaire? £23.78. Chris Tarrant's popular TV quiz got the nation guessing and a new board game and interactive game flew off the shelves.
2000: Teksta the Robotic Dogs £38.74. Teksta became a popular interactive pet – his artificial intelligence responded to light, sound, touch and infra-red. Aluminium Folding Scooters also became a big hit with the teenage market.
2001: Bob the Builder £19.97. Loved by all, Bob and his pals, Scoop, Muck and Dizzy were on all pre-schoolers' wish lists. Harry Potter Lego also sold well this year.
2002: Bratz Dolls £24.99. Bratz, the dolls with a 'passion for fashion' arrived in town, putting Barbie's nose out of joint. Japanese phenomena Micropets also took the UK playgrounds by storm.
2003: Beyblades £5.99. A new Japanese phenomenon – Beyblades, the battling spinning tops took UK playgrounds by storm and became a hit for Christmas.
2004: Robosapien £74.97. The radio control robot with NASA technology was in big demand with last minute deliveries being made to Toys R Us stores.
2005: It's the year for MP3 Players, PSP and Xbox 360 (ranging from £9.99 to £299.99) for a younger generation becoming user-friendly with modern technology. Roboraptor was another sensation.
2006: Nintendo Wii (ranging from £129.99 to £169.99) took the world by storm and became the must-have toy for Christmas. Doctor Who merchandise was also huge this year.
2007: In the Night Garden Iggle Piggle £34.99 Newcomer Iggle Piggle from In the Night Garden was loved by little ones.
2008: High School Musical Dance Mat £17.99 reach popularity stakes in the toy sections.
2009: Go Go Pet Hamsters £9.99 became the must-have toy with shelves being restocked on a daily basis. 2010: Toy Story 3 (priced from £4.99) has already influenced British shoppers and is sure to be a stocking filler for children this Christmas.
-Telegraph.co.uk