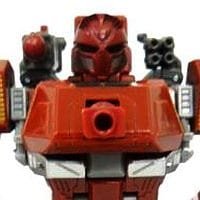 Warpath Review
05/09/2011
Warpath was the only new toy released in the 8th Wave of Generation. As was Universe Powerglide, he received an 'up-scale' release (after his 2008 Legend Class release)
Robot Mode
Alternate Mode
Aesthetics
Being that his G1 toys was a minibot, it's about time he received a deluxe treatment, more true to his original cartoon design.
Articulation
For current standard, his articulation kinda underwhelming especially on his legs.
Design
He's not a shell-formers, that's for sure. No extra kibble hanging around and limiting his articulations (Universe Galvatron comes in mind)
Gimmicks
None aside from his "auto-morph". The barrel was push inward to reveal his head (and should be left there so that the head won't fall back in)
Paintjob
Given that he consist mostly of colored plastic, he has a pretty decent paint job true to his G1 roots.
Fun Factor
Although his aesthetic is awesome, he is pretty much a straight forward toy.
Complexity
Very simple transformation, pretty straight forward can be completed in less than 8 steps.
Value
The is one of the most sought after (in Generation/RtS line) however that may due to the fact that he's short stock.
Overall
A good re-incarnation. Personally, I kinda like the fact that Hasbro are giving the G1 Minibots (Powerglide, Seaspray, etc) a bigger toy class.
Ratings
[starratingmulti id=2 tpl=50 size='30' average_size='30']
Credits
Gema